Cold, wind, make Howes Cave fire difficult
| | |
| --- | --- |
| 2/15/2017 | By Patsy Nicosia |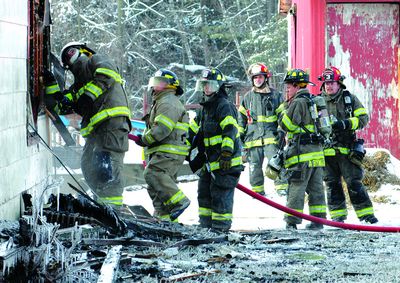 Firefighters from a half-dozen different departments battled frigid temperatures, snow-blown roads, and no water at the scene Friday to put out a fire at the Robinson Road, Howes Cave home of Jake and Christine Cornwell.
No one was living in the two-story farmhouse, just off Caverns Road, at the time.
The couple, who lives in Central Bridge, was in the process of renovating the home, firefighters said; a family cat escaped safely and firefighters kept the flames from spreading to the surrounding barns at the farm.
The call came in just before 9am when smoke was reported issuing from the rear of the home.
When firefighters arrived, the second floor was fully involved with flames coming out of both of the second floor windows.
Volunteers were able to access the scene from both Robinson and Caverns Road, but were forced to shuttle water from as far away as Route 7.
Schoharie County Fire Coordinator Matt Brisley and Cobleskill Fire Chief Phil Slater were among the first at the scene and calls quickly went out to the Carlisle and Central Bridge Fire Departments in addition to Cobleskill.
Calls for tankers and manpower from Esperance, Schoharie, and Richmondville followed, with the Quaker Street Fire Department providing station coverage for Central Bridge, and Sharon Springs on standby.
Because of icing at the water fill sites as well as at the scene, salt trucks were called in as was the County Fire Investigation Team and EMS crews.
In total, about 30-40 firefighters responded to fight the blaze and the Cobleskill FD Auxiliary provided refreshments and warm drinks for those at the scene.
The house was a total loss.
No injuries were reported.