Nadeau files lawsuit over Cobleskill parking lot
| | |
| --- | --- |
| 9/5/2017 | By Patsy Nicosia |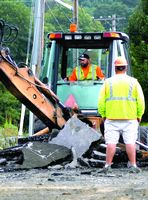 Just hours after felony charges against contractor and former Cobleskill mayor Mark Nadeau were adjourned until October 24, Mr. Nadeau filed a civil suit against the village seeking damages in connection with the Union Street parking lot that started it all.
Mayor Linda Holmes did not return repeated phone calls to her home phone or cell seeking comment on the lawsuit.
Village Attorney Shawn Smith didn't return repeated phone calls either, nor did Deputy Mayor Howard Burt.
The latest controversy involving the former mayor began July 4th weekend when late Sunday, July 2, Mr. Nadeau ripped up part of the parking lot at the corner of Main and Union Streets before police stopped him.
The village owns the lot; Mr. Nadeau maintains he simply ripped out an asphalt berm or "hump," which he said impacts drainage on his own adjacent property.
The dispute has been simmering since 2012 and after Mr. Nadeau asked the village to help him pave in late June—a request the village denied—the board told him not to ask again without a formal set of engineering plans.
Two weeks after police stopped him from ripping up the lot, Mr. Nadeau was arrested and charged with one count of second-degree criminal mischief, a Class D felony.
The cost of repairs to the lot ranges from about $10,000 to $25,000 or more.
Mr. Nadeau was released in his own recognizance and it was those charges that were adjourned until October 24 following his appearance before Schoharie County District Attorney James Sacket in court last Tuesday.
By the next day, Mr. Nadeau and his attorney, Carlo De Oliveira of Cooper Erving & Savage LLP had filed the lawsuit.
According to a release from Mr. De Oliveira, Mr. Nadeau is seeking "injunction and punitive damages for the Village of Cobleskill interference with his rights to maintain the parking lot adjacent to his property at Union Street."
No amount for the damages is specified.
The complaint maintains that the parking lot is a right-of-way easement to the former United States Hotel and that the village created a defect when, in 2002, it paved over old fuel tanks buried there.
The village removed the tanks after Mr. Nadeau's July deconstruction and Thursday, Town of Cobleskill trucks were back at the parking lot, removing more asphalt.
Mr. Nadeau's lawsuit claims that by diverting water toward Union Street as a result of paving over the tanks, the village has created a hazardous condition on his property and prevented him from selling or leasing it.
"The village has since barricaded the parking lot and prohibited Mr. Nadeau from repairing it," the complaint adds.