#MeToo: Schoharie's Ginny Kintz shares own story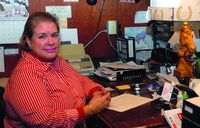 There's a long list of women who were sexually abused by national politicians and Hollywood big shots.
Add Virginia Lee Kintz to the list.
Ms. Kintz, "Ginny" to her friends, is a Schoharie native and is a long-term-care insurance agent there now.
But it was 40 years ago that Ms. Kintz, just a year or so out of college, was assaulted by then-Congressman Leo Ryan.
She's telling her story now because "I want people to know it involves more women than just a few. It's out there in every employment situation."
A graduate of George Washington University in Washington DC with a degree in Political Science, Ms. Kintz wanted to get her foot in the door on Capitol Hill. She landed an entry-level post in a Dallas congressman's office––"My first job was addressing Christmas cards"––and gradually worked her way up to be the congressman's head of legislative affairs.
The congressman retired after a year and a half, however, and Ms. Kintz sent resumes to 22 incoming congressmen. Two responded, and she chose Mr. Ryan.
The office manager interviewed and hired Ms. Kintz, who up to that point hadn't met the freshman congressman.
Her first––and only––encounter was memorable.
"The first day, he invited me into his office and locked the door," Ms. Kintz recalled. "It didn't automatically set off an alarm, but I thought it was unusual."
She described Mr. Ryan's office has having a large presidential desk, two chairs flanking it and a gigantic couch. Ms. Kintz sat in one of the chairs.
"He said, 'Come sit on the couch with me,'m " she said. "I did, and pretty soon he inched his way over until we were hip to hip.
"It took me about 10 minutes to realize I was locked in a room with a predator.
"He started touching me, and I backed away. He said we were going to spend a lot of time together, travel together, and he had my best interests at heart."
Congressman Ryan then pulled Ms. Kintz closer and tried to kiss her, she said.
"I pulled away," she said. "Then he pushed me down on the counch and tried to kiss me again. I got away, grabbed my pocketbook, unlocked the door and ran out."
At first, Ms. Kintz put the blame on herself, feeling she must have done something to lead Mr. Ryan on. But she hadn't––no short skirt, no provocative behavior.
"Later, I realized I didn't do anything to deserve this," she said.
Ms. Kintz called her best friends––both in Washington and later, Schoharie County––and they were sympathetic. None of them, however, suggested she report Mr. Ryan.
"Because they knew in those days it wouldn't matter," Ms. Kintz said. "A lot of women endured this treatment because they didn't want to lose a good job."
Still determined to work in Congress, Ms. Kintz thanked her luck that she hadn't cancelled the second response to her earlier inquiries. Gillis Long, of the well-known political Louisiana Long family, hired her.
She worked for Congressman Long for seven and a half years.
"Gillis Long was the epitome of courtesy, both to his staff and his constituents," Ms. Kintz said. "I was so lucky.
"In seven and a half years, I never felt a tinge of discomfort that I had in 20 minutes with Leo Ryan."
Ms. Kintz remains deeply interested in politics and is concerned that the public will think poorly of all national figures as several bad eggs are properly singled out.
"There are 465 members of the House of Representatives, and they are a perfect mirror of our society," she said.
"There are smart ones, dumb ones, letches and gentlemen. They're no better or worse than the rest of us."
As painful as it is for many women––including her––to come out, Ms. Kintz believes public exposure of such behavior is a good thing.
There is, she said, no going back to the old days when men could get away with it.
"I think men will be more sensitive when dealing with women," she said. "I see this as a positive."

• • •
Mr. Ryan was murdered in 1978 while investigating constituents being held against their will at the People's Temple in Jonestown, Guyana.