Cobleskill sees economic efforts paying off
| | |
| --- | --- |
| 2/7/2018 | By Patsy Nicosia |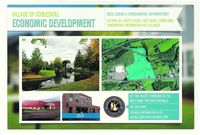 Even as Schoharie County works to draft an economic development strategy it hopes will spur job and business growth (see related story), some of the keys to success may lay in efforts already underway in the Village of Cobleskill.
Less than a year ago, Code Enforcement Officer Mike Piccolo and then-SUNY Cobleskill intern Sarah Kruzinski--she's now a village employee--began working with Mayor Linda Holmes and others to put together their own economic development plan and more importantly, putting it online.
At Cobleskillvillage.com, anyone interested in learning more about Cobleskill can take a virtual tour of everything from schools to churches to a monthly featured business.
The website also includes the village's economic goals and objectives and it lists available commercial buildings and properties; with one click, potential investors can find out allowed uses for each site and even things like traffic count.
The site doesn't focus just on the village, Mr. Piccolo said, but includes the Town of Cobleskill and the Route 7 corridor from Shad Point to Richmondville.
About half of the site's 5,376 "hits" since it was launched last March have resulted in follow-up calls or contacts, he said.
"I'm very much a believer in hands-on, one-on-one contact," Mr. Piccolo said, "but this is an easy way for people to see what we're about and what we have to offer. Instead of pages of data or zoning code, we've tried to give people a quick snapshot."
Mr. Piccolo said they began the project by looking at small, rural villages across the country that had successfully attracted small businesses, often with just a handful of jobs, that were maybe a better fit than a string of big box stores or factories.
"It's never going to be about hundreds of employees," he said, "and that's OK. We see what the consequences of that are. But that's also our strength."
A case in point, he said, is Mill Services, a successful small wood products business that's already outgrowing its space on MacArthur Avenue.
With help from Mr. Piccolo and Schoharie County Treasurer Bill Cherry, Mill Services bought the long-vacant Guilford plant and as Aker's Industrial Development, a year later it's filled with everything from a gym and cafe to a hair salon, a shed manufacturer and an Amazon-like wine distribution center with more than 150 local employees.
Another example of Cobleskill's one-on-one success, Mr. Piccolo said, is the Fusion Community Church, which looked into buying the former Wesleyan Church on Legion Drive--but then realized its growing congregation would outpace the space there in about six weeks.
They were casting about for other sites, Mr. Piccolo said, when he put them in touch with Eric Dolan, who owns the old Guilford plant at the top of North Grand Street.
Mr. Dolan was willing to renovate the property for Fusion, Mr. Piccolo said, and today the church rents the site, "making them the only church that I know of to pay taxes," he said, laughing.
"It's all hands-on," Mr. Piccolo said. "One-on-one. One small step at a time. We're willing to work with anyone."
Even when that means telling someone who wants to open a bakery with no business plan but a favorite cookie recipe that they might want to reconsider.
If there's a gap in what Cobleskill's economic development plan can do, he said, it's that there's a need for help throughout the county for resources and training for would-be new businesses and entrepreneurs, something that has been offered locally in the past.