Murder in Central Bridge
| | |
| --- | --- |
| 4/11/2018 | By Patsy Nicosia |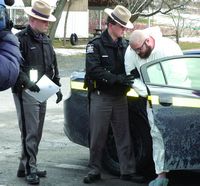 Longstanding tensions in a Central Bridge neighborhood spilled over Friday and now one man is dead.
Charged with second degree felony manslaughter in the stabbing death of 29-year-old Zachary A. George is Kevin Hodgins, 30.
Mr. Hodgins, who lives in Central Bridge, was arrested without incident at the scene of the 197 Church Street homicide shortly after 11pm, State Police said Saturday.
Mr. Hodgins pleaded not guilty at an arraignment before Schoharie Justice Kenneth Knutson.
He was ordered held on $15,000 cash/$30,000 bond bail and ordered to return for a preliminary hearing Monday.
A soft-spoken Mr. Hodgins was represented at Saturday's arraignment by Schoharie attorney Teresa Meade, but filed an application for a public defender during his arraignment.
Back in court Monday, Mr. Hodgins was represented by attorney Mark Gaylord, who unsuccessfully attempted to get his bail lowered; Schoharie County District Attorney Susan Mallery opposed the request and citing the nature of the crime, Justice Knutsen declined to grant it.
Saturday, State Police blamed the murder on ongoing disputes over noise and other "neighbor" issues in the Central Bridge neighborhood.
"It was just a bizarre escalation between neighbors," said Zone Commander Michael Tietz at a press conference outside the Cobleskill State police barracks Saturday.
"Foolishness that didn't need to happen."
Police said they've often been called to 197 Church Street, which houses eight apartments.
Neighbors often turned to 911 to settle disputes, they said.
At about 5pm Friday, police said, the Schoharie County Sheriff's Office responded to a report of a verbal dispute between neighbors there.
Then, at 10:48pm, the Sheriff's Office received a second 911 call at the address, responding within three or four minutes, where they found Mr. George, who lived nearby, dead from a stab wound in the neck.
Mr. George died at the scene, in a hallway outside the second floor apartments, "in a violent altercation that grew out of the previous disputes," Captain Tietz said.
BCI Investigator Richard Anguish said Mr. George was stabbed with a knife, likely a folding knife, but an investigation is continuing.
Mr. Hodgins went with police quietly, Lieutenant Anguish said.
He couldn't comment as to Mr. Hodgins' state of mind when he was arrested nor would he comment on whether his actions were in self-defense, pointing to the ongoing investigation.
Police did say they believed no drugs or alcohol were involved.
A grand jury is expected to hear the case Friday.