Winners: Delgado, Seward, Tague
| | |
| --- | --- |
| 11/7/2018 | By Patsy Nicosia and Jim Poole |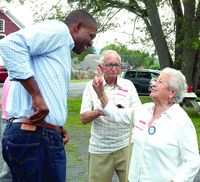 Antonio Delgado, the 41-year-old Schenectady native who emerged from a seven-way primary race to run on the Democratic ticket in Tuesday's local Congressional race, has defeated Congressman John Faso in unofficial election results.
Other unofficial state winners: Republican Senator Jim Seward and Republican Assemblyman Chris Tague.
Across the 19th Congressional District, Mr. Delgado got 49.26 percent of the vote for a total of 132,001 votes; first-term Congressman Faso got 46.42 percent of the vote and 124,408 votes.
Congressman Faso conceded the race shortly before 11pm, calling Mr. Delgado before the Rhodes Scholar took the stage in Kingston for his victory speech.
Speaking of the values of equality, justice, and the American dream, Mr. Delgado said, "They are the values that allowed my parents to dream for a better future. No matter your class, your gender, religion, sexual orientation or race, you get a fair shake here.
"I am a Democrat, but that is not why I ran. I ran because I'm an American. I ran to serve everyone irrespective of party size or the size of one's bank account. I am beholden to you."
Schoharie County Democrats first met Mr. Delgado at a 2107 Earth Day rally and celebration on the front lawn of the Schoharie DAR.
Tuesday, however, he didn't win the heavily Republican county.
Congressman Faso won locally with 59.8 percent of the vote and 6,819 votes; Mr. Delgado got 36.7 percent of the vote and 4,189 votes.
Congressman Faso also won in Otsego, Delaware, Montgomery, Broome, Rensselaer and Sullivan Counties, but it wasn't enough to keep his seat.
"The results are not what we hoped for," Congressman Faso said Tuesday. "I have called [Delgado] and congratulated him on his victory.
"I know those of us in this room and across the district never gave up hope, even in the darkest times. And tonight we sent out an unmistakable message that we can fix what's broken."

• • •

In the State Senate, Senator Seward defeated Democratic Joyce St. George, 63,003-34,809 across the 51st District, earning 62.42 percent of the vote to Ms. St. George's 34.49 percent to win his 17th term.
In the county, Senator Seward defeated Ms. St. George 8,163-3,095.
"I am thrilled and humbled with the victory and look forward to continuing the strong partnerships I have developed with the people of the 51st Senator District," Senator Seward said, celebrating his victory at his campaign headquarters in Oneonta."
And in the State Assembly, Assemblyman Tague, elected in an April special election to fill Pete Lopez's seat, again defeated Democratic challenger Aidan O'Connor, a Greene County legislator from Durham.
Across the 102nd, Assemblyman Tague won 28,053-20,858 a 55.61 to 41.35 percent margin.
In Schoharie County, he beat Mr. O'Connor, 7,403-4,006 or 64.9 to 35.1 percent.

• • •

Republican Alan Tavenner defeated Democrat Virginia Lee Kintz in the race for Schoharie supervisor.
Mr. Tavenner received 826 votes to 388 for Ms. Kintz.
Mr. Tavenner was appointed earlier this year after former supervisor Chris Tague won the special election for the 102nd Assembly District seat.
In other contested local races:
Democrat Brian LaVine won a councilman's seat on the Cobleskill Town Board, narrowly defeating Republican Bruce Wetsell, 888 to 843.
In Summit, Stephen Gerhardt won the race for town justice, defeating John Meaney 278 to 195.