Delgado hears from Schoharie County
| | |
| --- | --- |
| 3/13/2019 | By Patsy Nicosia |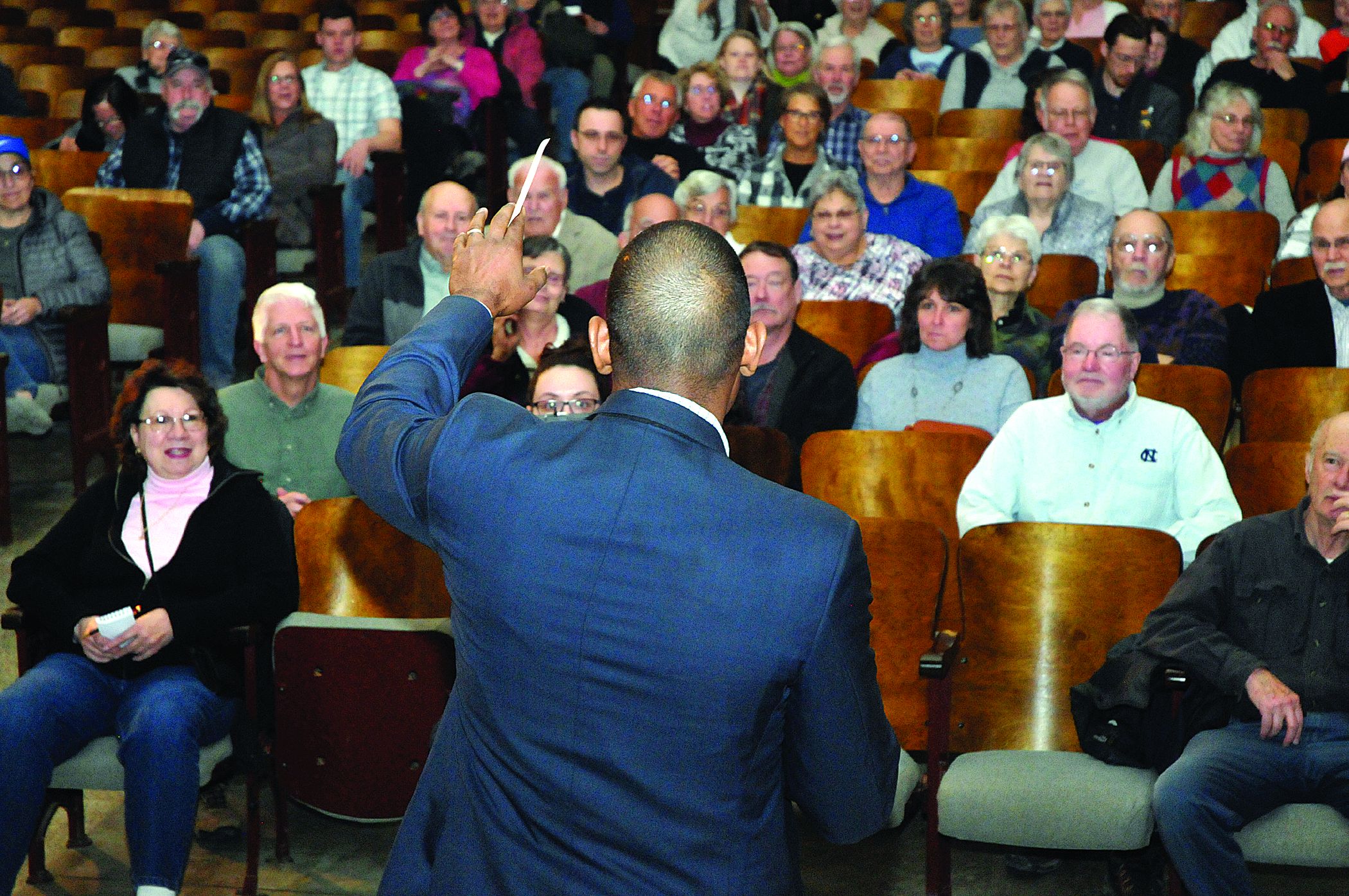 Congressman Antonio Delgado and constituents had some difficult conversations in Cobleskill Saturday.
But Democracy is always going to be messy, "and we're going to have difficult conversations," the freshman Congressman told the crowd of more than 125 Democrats, Republicans, and Conservatives at his 11th Town Hall.
"Every stop has been a good one with civil discourse. We can agree to disagree," Congressman Delgado said, setting the tone for the hour-and-a-half-long event.
And later:
"We're so divided…We find ways in this country to politicize everything. Well, America should be preserving [the things] so many sacrificed for" and not making empty promises to 9/11 responders or rural America, both topics raised in the Q&A.
In the first half of Saturday's event, Congressman Delgado talked about the concerns raised at his previous 10 Town Halls including the environment, health care, and crumbling infrastructure.
He reminded the crowd that his first day on the job was also the first day of a record-breaking government shutdown "all because of policy.
"It's bad. I'm not going to sugarcoat it. It's ridiculous. Absolutely ridiculous…" he said of the political climate in Washington.
"We need to find common ground. How can we solve these problems if we don't dedicate ourselves to doing this work?"
Congressman Delgado said he's met with families in tears because they're afraid they can't put food on the table or save for their children's college tuition.
In Washington, he said, "There's a mindset that rural communities are expendable" and though legislators pay lip service to quality of life and farming, "We don't actually do anything to support them."
He was stunned, he said, when he heard Secretary of Agriculture Sonny Purdue say it wasn't his business to keep small farms in business, that he was only interested in the economy of scale.
Republican George Konta of Richmondville was the first from the crowd to speak, telling Congressman Delgado that while he didn't vote for him, he's impressed with what he's seen.
A member of the Cobleskill Regional Hospital board, Mr. Konta said he's worried that $200,000 in state funding cuts will put the hospital and others like it out of business and he asked the Congressman for help.
Staffers took Mr. Konta's phone number and a folder of paperwork and Congressman Delgado answered that neither Democrats or Republicans seem to think about "smart spending" any more.
Nancy Van Deusen of Cobleskill asked the Congressman where he stands on the Green Deal, a comprehensive package of environmental reforms.
"If we can't solve our environmental issues, we're going to be sunk," she said.
Congressman Delgado agreed, but urged concrete steps to address specific issues—like outlawing fracking, and investing in renewable energy and green jobs—instead of the Green Deal, which he sees as susceptible to "demagoguery and partisan divisiveness."
Saturday's most difficult conversation came when Frank Masterson of Sharon, who called himself a staunch Conservative, but said he finds Congressman Delgado someone he feels he can talk to, raised the state's February passage of the Reproductive Health Act, which codifies Roe v. Wade.
Mr. Masterson passionately said he opposes abortion under any terms.
Congressman Delgado, who is pro-choice, said he's given the issue a lot of thought, but is concerned that "We are trending away from women's rights. "There is a legitimate fear…that Roe v. Wade will be overturned."
Late-term abortions are choices never made casually, he said, and as a man, he doesn't feel he has the right to take that sort of health care issue away from women.
"I certainly respect the sanctity of life," he said. "I'm a faith-based man, I pray. But I think we have to disagree agreeably."
And he praised Mr. Masterson's bravery for bringing up the topic.
"These are not easy conversations or everyone would be here," he told Mr. Masterson. "Not everyone has the courage you do.