Teen dating violence hidden crisis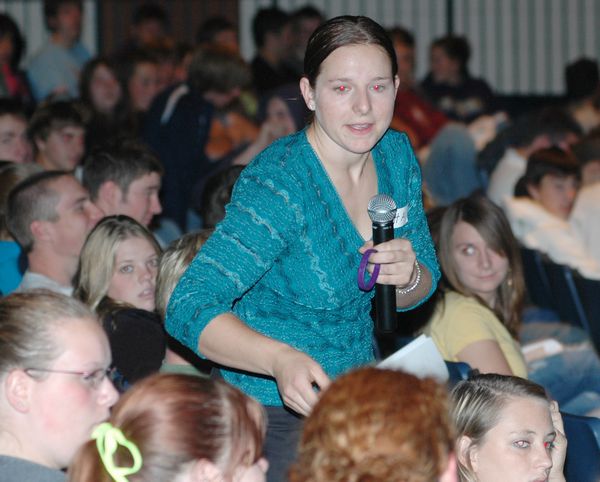 It's a topic most teens recognize but rarely talk about. Mentioning dating violence is taboo.
But Cobleskill-Richmondville students heard much more about the hidden crisis on Thursday.
Loretta McClary, a domestic violence advocate with Catholic Charities of Schoharie County, spoke to about 300 juniors and seniors, explaining the prevalence of dating violence and what to do about it.
The numbers demonstrate the problem, Ms. McClary said:
* One in three high school students have been or will be involved in an abusive relationship.
* Forty percent of teenage girls ages 14-17 know someone their age who has been hit or beaten by a boyfriend.
* In one study, 30-50 percent of high school girls reported having already experienced teen dating violence.
Incidents in Schoharie County generally follow the national numbers, Ms. McClary said later, but the problem could be worse locally.
"We're seeing more and more younger people come in [to the Catholic Charities agency], mostly in their early 20s," she said.
"If they had talked to someone earlier or we could have reached them, they might have seen the warning signs. We could have prevented it."
Statistics only tell part of the story, she added.
Abuse can take many forms besides physical, including verbal, sexual, stalking and more.
Ms. McClary described abuse as "a pattern of control" of one person over another and pointed to warning signs of excessive jealousy, put-downs, threats, slapping or hitting, name-calling and forcing behavior, such as having sex or using drugs or alcohol.
"They're not loving you, they're controlling you," Ms. McClary said.
Stalking isn't limited to following someone. Now, a friend can use a cellphone, e-mailing MySpace, Facebook and other technology to check up on a partner.
"If the warning signs are present, it's time for a change," Ms. McClary said.
Change is difficult, however, because the abused is ashamed or afraid to talk, and peer pressure and social status are difficult to resist.
"Nobody wants to leave a relationship," Ms. McClary told the students. "Our society tells us that."
Teens should examine their relationships, recognize warning signs and be willing "to break the cycle," Ms. McClary said.
"You have to place more value on yourself than on the relationship," she said.
She urged C-R students to respect themselves, be honest, keep individual freedom, be trustworthy, compromise and accept change and, as a relationship begins and develops, "really get to know somebody.
"Get to know their family," Ms. McClary said. "The family says a lot about the person."
Adding that "no situation is hopeless," Ms. McClary urged students who believe they may be abused to speak out and get help.
The Catholic Charities office on West Main Street, Cobleskill, offers counseling, legal advocacy, group sessions, shelter and more, and all services are free and confidential.
The phone number for the office is 234-3581.