Sharon hit by 2 fires
| | |
| --- | --- |
| 10/31/2007 | By Patsy Nicosia |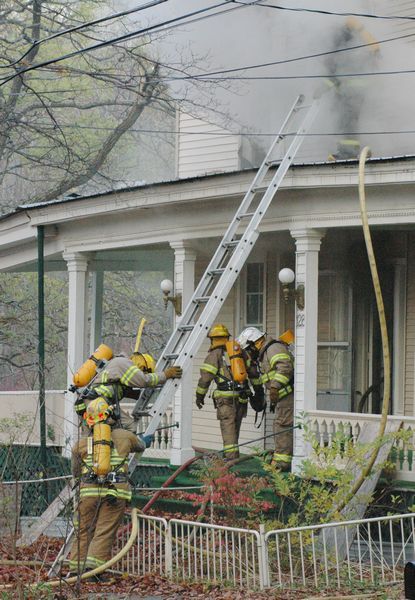 An afternoon fire Sunday at a Sharon Springs boarding house kept firefighters from a half-dozen departments busy until after dark.
It was the second blaze in Sharon in less than a week.
Sunday's fire at 128 Willow Street was called in at 4:42pm, Sharon Springs firefighters said, and was heavily involved in smoke when they arrived.
No one was home at the time, but there were concerns the blaze could spread to nearby buildings and a mutual aid call went out to the Ames, Cherry Valley, Carlisle, South Minden, and Cobleskill Fire Departments.
Volunteers mounted both an interior and exterior attack and once the Cobleskill FD arrived with its aerial ladder truck just after 5:30, firefighters were able to open up the roof and get at the flames before the fire spread.
Firefighters said the house is owned by the Ginzburg family of Brooklyn, who run it as a boarding house during the summer.
Damage to the home is extensive, they said, with substantial fire and water damage.
The fire, which started at the rear of the building, is thought to be electrical in origin and is still under investigation.
About 100 volunteers responded to the call.
Just last Tuesday, Sharon Springs volunteers responded to another electrical fire that destroyed Thunder Customs, the Route 20, motorcycle business owned by Jody and Darrell Hotaling.
That fire gutted the building, but the couple and friends were able to remove most of the motorcycles inside, firefighters said.
The fire was called in at about 2am and volunteers from departments including Ames, Cherry Valley, and Carlisle, along with Sharon, were on the scene till 10.
No one was injured in either blaze, firefighters said.
The Hotalings opened Thunder Customs about three years ago and had just recently purchased the building, which was insured.
The couple is operating their business out of a mobile home in the parking lot until they can rebuild.