Little Rock's Minnijean Brown Trickey shares story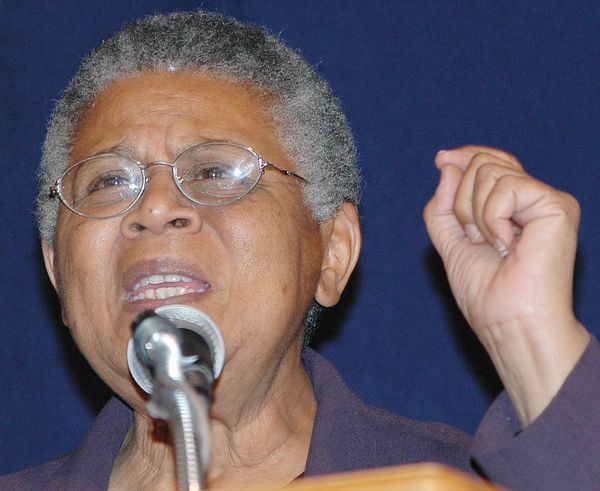 Fifty years ago, Minnijean Brown Trickey endured taunts, spit, garbage and punches to break the color line at Central High in Little Rock, Arkansas.
Have times changed?
Yes and no, she told an audience at SUNY Cobleskill Thursday night.
Although blatant racism is less evident than it was in 1957, racism still exists, and violence is worse than ever, Ms. Trickey said.
Speaking to audience of mostly college students, Ms. Trickey described her experiences as one of the Little Rock Nine as "one of the most horrific stories and also one of beautiful stories of how Americans always struggle to bring about social justice."
At age 15, Ms. Trickey joined eight black classmates to try to desegrate Central High, but they were turned away the first two times.
"The whole world was watching," Ms. Trickey said, because of the relatively new medium of television.
"We were the first black children on TV," she said, adding with a chuckle, "Buckwheat was the first I saw."
But the Little Rascals movie character didn't have to endure the pain and suffering of the Little Rock Nine.
Even after President Dwight Eisenhower called out the National Guard to allow the Nine to get into school September 25, 1957, the struggle had just started. But Ms. Trickey was ready, even at 15.
"I had a rod up my back that I didn't know I had," she said. "It was pure steel."
White teens taunted, spit at, threw garbage on and fought with the nine blacks, and for the most part, they took it silently.
The Nine rarely talked about their experiences, Ms. Trickey said, because each one didn't know the other eight were suffering the same slights. Also, if they talked, their parents would have pulled them out of school.
Only lately, during Little Rock Nine reunions, have the emotions truly surfaced, Ms. Trickey said.
"We cry a lot," she said. "It needed to happen."
The white students weren't reprimanded "because a teacher didn't see it," Ms. Trickey said.
The tables turned for her, however. Enduring taunts and stalking by five white girls for three weeks, she finally turned on them and said, "Leave me alone, white trash."
"And you know what? A teacher heard it," resulting in her getting expelled from school," Ms. Trickey said.
Later graduating from another school, getting college degrees, and serving in the Clinton administration, Ms. Trickey continued to be a leader on the civil rights front.
She's not encouraged, though, because television––the same medium that brought the Little Rock Nine's story to the world––has now "desensitized us to violence," Ms. Trickey said.
Despite all its potential, "the possibility of thinking for one's self is removed" by television, she added.
And on racism, government and society have removed the physical signs, though "not in our minds," she said.
But there's hope.
Ms. Trickey urged the audience to always tell the truth and follow the path of non-violence.
"We are inherently non-violent as a person," she said. "The cool part is that it's free. You don't need to buy cereal, you don't need to buy sneakers to have it. It's the most powerful force in the world.
"We can be more intelligent. We can be deeper."
SUNY Cobleskill Provost Anne Myers echoed that theme in introducing Ms. Trickey and touched on the speaker's courage.
"If you ever doubt that one person can make a difference in the world by standing up for simple principles, she shows that you can make a huge difference," Dr. Myers said.