WCS budget could cut ag, FFA, more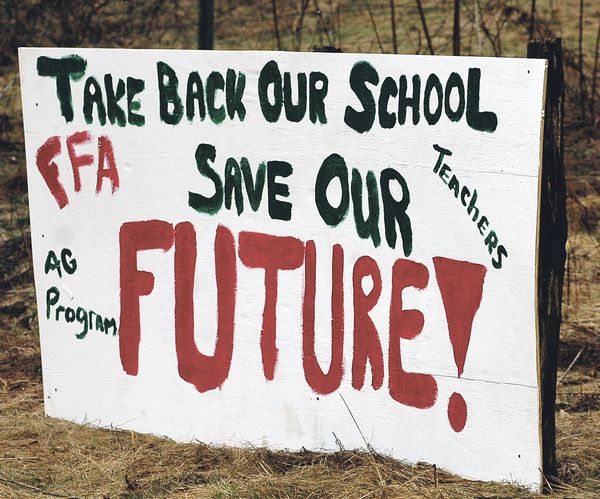 Parents in Worcester are angry that school budget cuts may eliminate the agriculture program, a popular Future Farmers of America chapter and other positions at the school.
They're so angry, in fact, that "Take Back Our School" signs have popped up around the community.
But Superintendent Gary Kuch cautioned that although the cuts are likely, they're not final yet.
Parents formed "Take Back Our School" about two months ago to raise money for the FFA's trip to a state convention in May. Goals for the newly-formed group shifted somewhat when the budget cuts were announced in March.
The cut positions include the ag and tech teacher, a fifth-grade teacher and a pre-K teacher. A full-time clerical position would be reduced to part-time.
Much of the concern has focused on the ag and tech teacher, Karen LaBombard, who's been at the school four years, and the clerical person, Wendy Evans, at Worcester for 20 years and also involved with FFA.
"Karen does a tremendous amount for the kids as an FFA advisor and cheerleader coach," said Lori Gruber, a parent and in Take Back Our Schools.
"She's very well-liked in our community."
Ms. Evans has similar support.
"A guidance secretary who's been loyal to the school for 20 years gets cut to half-time?" asked Pat Branigan, another parent. "How much is that saving the school?"
Students must take an ag class to be in FFA, so if there's no ag program, FFA will end, parents fear.
That's a big fear, too, because of Worcester's approximately 440 students, nearly 25 percent are in FFA.
Some parents maintain the cuts are personal, that Ms. LaBombard and Ms. Evans pepper the board with too many requests.
Mr. Kuch, who's been superintendent only since January, maintained the cuts were financial, not personal.
Worcester started the budget process with a 22.1-percent tax-levy increase, and the latest version of the budget would raise the levy 2.9 percent, Mr. Kuch said.
The latest version added a part-time tech teaching position, even though the soon-to-be-cut Ms. LaBombard is also a tech teacher.
Mr. Kuch said three factors went into the cuts: Declining student enrollment, declining revenues and student needs in other areas.
Even though the decision isn't final, he's already told the four staffers that they're likely to be cut.
"I didn't want to wait till the nth degree and give them pink slips," Mr. Kuch said. "I told them there's a possibility they'll be cut, probably be cut."
And any federal stimulus money that may come Worcester's way will go towards saving other positions, he said.
Economic times, Mr. Kuch added, demand severe cutting.
"This district has never had to cut positions," he said. "People who have been here a long time have never seen it like this. It's not a good picture out there."
"Take Back Our School" critics may agree, but they don't agree with Mr. Kuch about the cuts.
"Why are they going after academics and not extra-curricular?" asked George Mravlja, another concerned parent who said he'll run for the school board in May.
"Why are they cutting this way? If they cut across the board, it would be easier to swallow."
Mr. Mravlja said he's running to offer what critics believe the school board is not.
"I'm level-headed and open-minded," he said. "But I know I'm not going to change the world."
Attempts to get a response from the school board were unsuccessful. School board president Michelle Empie did not return phone calls for this story.

* * *
Although "Take Back Our School" is focused on the budget, it is still raising money for the FFA trip in May.
Anyone wishing to donate may write a check to FFA Alumni and send it to FFA Alumni, c/o Lori Gruber, PO Box 323, Worcester.
The FFA is also holding a raffle for a Cub Cadet lawn tractor. Tickets are available by calling 607-397-9086 or 397-7710.