Judge tosses Harry's conviction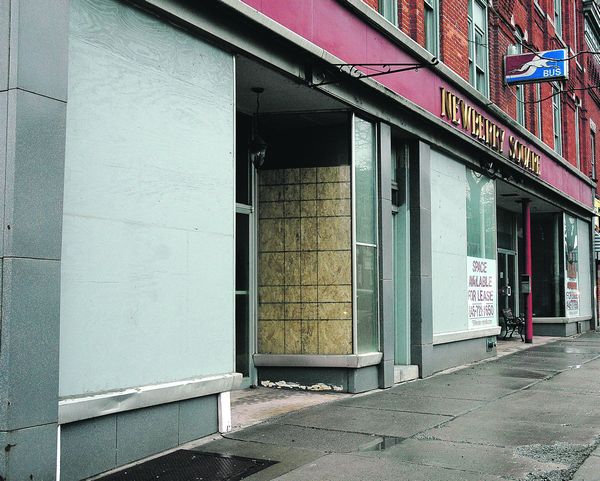 The plywood in Cobleskill's Newberry building will remain in the windows––after more than a year of legal wrangling.
Schoharie County Judge George Bartlett late last month overturned the building-code conviction of Harry Ioannou in County Court.
Judge Bartlett's action was a decision on Mr. Ioannou's appeal from his conviction in the controversial case last August.
Glass in three Newberry's windows was broken in a snowstorm in March 2008. Mr. Ioannou replaced them with plywood, triggering a series of zoning citations and court dates.
Since then, residents, other business owners and village officials complained about what they described as the unsightly plywood windows in the downtown business district.
In August, a six-person jury found Mr. Ioannou guilty of violating the building code for not properly maintaining the plate-glass windows in the Main Street storefront.
Village Justice Richard Hamm later ordered Mr. Ioannou to pay a $20,000.
But Mr. Ioannou vowed to appeal, won the decision and is now not liable for the fine.
"Justice prevails," was Mr. Ioannou's only comment after learning of Judge Bartlett's decision.
In his decision, Judge Bartlett wrote that the village sought to convict Mr. Ioannou under a section of the building code applying to occupied buildings. Judge Bartlett disagreed, citing another section applying to only portions of occupied buildings.
"As defendant was charged, tried and found guilty under an inapplicable code provision, the order must be reversed," Judge Bartlett wrote.
Ed Wildove is now the village attorney, but he was Mr. Ioannou's lawyer for the August trial.
"This confirms the position we made at trial," Mr. Wildove said of Judge Bartlett's decision. "The Judge agreed with our position."
Contacted Monday, Mike Piccolo, the village code enforcement officer who cited Mr. Ioannou, said he was surprised by Judge Bartlett's decision.
Mr. Piccolo also said he wanted to confer with village officials before speaking further.
Besides the "inapplicable code provision," Judge Bartlett found other "numerous errors" with the village's case against Mr. Ioannou.
In the trial, Mr. Piccolo––the village's only witness––said Newberry's window repairs must withstand 90-mph winds, adding that he learned that in a construction class.
Judge Bartlett, however, wrote that "the Code Enforcement Officer never detailed what class he took and how that qualified him as an expert.
"Moreover, the Village failed to cite a specific section of the code that required any repair by defendant to withstand" 90-mph winds.
Also, Judge Bartlett questioned Mr. Piccolo's citing of Mr. Ioannou so quickly after the windows broke. At the trial, Mr. Piccolo said he acted because the building owner has a history of violations.
"Under the circumstances presented here, such testimony unduly prejudiced defendant," Judge Bartlett wrote. "The trial was for this alleged violation, not the defendant's history with the Village Code Enforcement Officer."
Judge Bartlett also raised the issue of who owned the building, whether it's Mr, Ioannou or a corporation. The issue is important, Mr. Bartlett wrote, because of the $20,000 fine.