Arts Council makes the best of move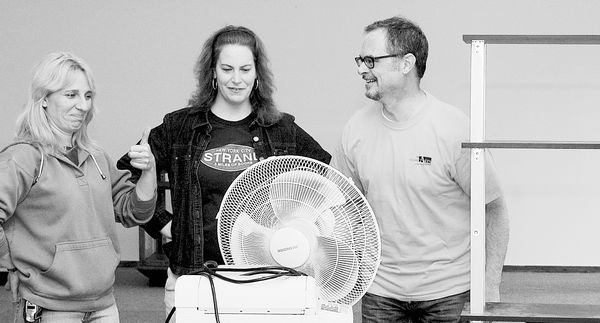 Hit hard by the recession, the Tri-County Arts Council is making the best of it.
The Arts Council last week moved out of its large storefront at 107 Union Street, Cobleskill, and moved across the pavement to the smaller 108 Union.
More significantly for the Arts Council, according to Executive Director Mark Eamer, the move also signals a change in direction.
"We're a service for artists and cultural organizations," he said. "We had kind of gotten away from that, but that's what we'll focus on."
The move temporarily shuts ArtWorks, an artists' cooperative that sold a variety of paintings, photographs, jewelry, pottery and more, and Gallery 107, with featured monthly exhibits.
Finances dictated the changes. The Arts Council depends on state funding for about one-third of its budget; the state cut its contribution by 25 percent late last year.
Mr. Eamer estimates another 20- to 40-percent cut in state funds is coming.
He laid off two employees, which didn't leave enough personnel to run both ArtWorks and the Gallery.
"We looked around here," Mr. Eamer said in the nearly-empty 107 location, "and said we don't need 5,000 square feet."
The decision forced directors and staff to re-examine the Arts Council's mission.
"Should we be running a shop? No," Mr. Eamer said. "This is mission-driven. The tail isn't wagging the dog."
Also, the Arts Council also serves Fulton and Montgomery counties––the other two in "Tri-County"––and ArtWorks didn't include those two.
Member artists who displayed their work in ArtWorks are looking for a new site, and the Arts Council will help them do so, Mr. Eamer said.
A gallery program will work in conjunction with the Grosvenor Gallery at SUNY Cobleskill, the Perella Gallery at Fulton-Montgomery Community College and the Chamber Gallery at the Fulton County Chamber of Commerce.
As for performances, the Arts Council will use other sites: The Community Library, Teentown and churches.
"We like reaching out to community venues," Mr. Eamer said.
The Council also won't try to duplicate other efforts, such as classes offered at The Studio for Art and Craft on Main Street, Mr. Eamer said.
Returning to its original, 30-year-old mission, the Arts Council will use its new 108 Union location as an office to help artists and organizations.
Besides the office, there's also space for meetings and small classes.
"Without the shop and without me running the gallery, we have to time to do our job," Mr. Eamer said. "We'll be seeking funding to help artists do what they do and fund cultural events in all three counties."
Although the move and the change constitute a dramatic shift, Mr. Eamer hardly sees it as the end of the world. State funds may be cut, but the Council also depends on memberships, donations, sponsors and fundraising.
"Everywhere I go, people say, 'Oh, you're closing.' No, we're not," he said. "No way we're saying, 'Woe is us.' This is well-thought-out. We'll find a way."
New hours at 108 Union are 9 to 4:30 Tuesday through Friday, with events at various times.
To ask about becoming a member, call the Arts Council at 254-0611.