SUNY faculty could vote "no confidence"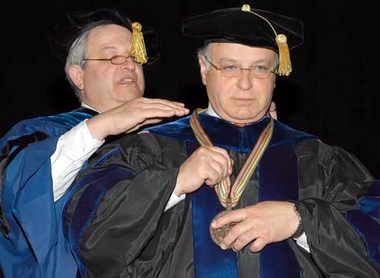 SUNY Cobleskill faculty may take a vote of no confidence in college President Donald Zingale this Thursday.
The vote, if it happens, follows a meeting two weeks ago at which faculty apparently proposed a resolution calling for the vote.
Scott Silversten, the college's director of communications, confirmed that the motion had been made but wouldn't comment on Thursday's possible vote.
He did say that 222 faculty are eligible to vote "if there is a vote."
Outside of Mr. Silversten, college officials were mum about the vote of no confidence.
•Dr. Zingale's office referred calls to Mr. Silversten.
•Cliff DaVis, president of the faculty union United University Professions, did not return phone messages.
•Melody Eldred, a math professor and presiding officer of the faculty, also did not return phone calls.
However, a prepared statement released by Mr. Silversten, hinted at possible strained relations between the President and faculty.
". . .Change, even when in the best interests of the campus, might be resisted by some individuals."
The changes include reaccreditation by the Middle States Commission on Higher Education, full membership in the national Collegiate Athletic Association and celebration of the college's centennial year, Mr. Silversten wrote.
"However, SUNY Cobleskill wil emerge from this important period a more robust, engaged and dynamic institution; an institution that remains the pride of Schoharie County. . .," the statement continues.
The possible vote of no confidence came to light when the Times-Journal received a letter signed by "The Dedicated and Caring Faculty and Staff, SUNY Cobleskill."
The anonymous letter mentions low morale on campus, has alleged quotations from Dr. Zingale, attacks him for using "fear, paranoia and manipulation to lead," and asks for community help to get rid of him.
The letter also indicates that Thursday's vote, if it happens, is by secret ballot.
Although the T-J shared copies of the letter with the college, officials did not respond, other than Mr. Silversten.