Cobleskill: First Irene, now Lee
| | |
| --- | --- |
| 9/14/2011 | By Jim Poole and Patsy Nicosia |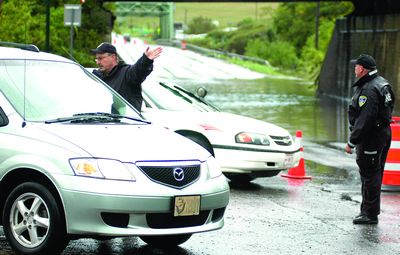 Just as Cobleskill was pulling itself together from Irene, Tropical Storm Lee paid a visit.
Last Wednesday's storm dumped upwards of seven inches on the Cobleskill area, flooding downtown businesses and homes.
And as businesses recover, village officials are trying to give them a hand.
Among those hardest hit were businesses near Centre Park and homes along Mill Creek Lane, flooded by Mill Creek.
"We were going to open today," Kathy Fripp, owner of Butterflies and Dreams, said on Friday.
She was referring to her store's recovery from Irene--before Lee hit.
After losing nearly $7,000 in inventory, Ms. Fripp plans to reopen, but not right away and not in the present location right alongside Mill Creek.
"I'll sit and see what we can afford," she said. "We're not giving up."
Ms. Fripp also echoed the thoughts of many others: "It was bad, but we were still luckier than other places like Middleburgh and Schoharie."
Nearby Maxwell's, which opened in late August, was more fortunate than others, getting only an inch of mud and water in the store.
"We were lucky," said owner Mike Mastrototaro, "but it was an exciting grand opening."
Village Codes Officer Mike Piccolo surveyed much of the Mill Creek damage on Thursday, a day after Lee.
"I've never seen anything like it," Mr. Piccolo said. "As of Thursday night, it hadn't even receded.
West Main Street by the park was closed for much of Thursday, with water and debris clogging the road.
The other end of the village was hit again, too. Race Printing and Packaging and the Bank of Richmondville suffered damage from Irene and got the same treatment--or worse--from Lee when a drainage brook overflowed again.
After Irene, Race's Debbie Tilison set up shop under a canopy on the lawn while restoring the business on Barnerville Road.
"We spent thousands, and now we're ripping up walls and floors again," Ms. Tilison said, almost in tears.
She was running the business out of two trucks while the Lee cleanup was under way Friday.
"I'm not going to do all the cosmetic stuff like I did last time," said Denny Tilison, Debbie's husband. "I'm going to wait and see."
It was a similar story for the Bank of Richmondville, which replaced sheetrock and carpet after 18 inches of water from Irene. More came in from Lee.
But because Lee hit on a workday--Irene came on Sunday--the bank was able to save more equipment and files.
"We've been here since '82, and we'd never been flooded," said President Randy Crapser. "Now we've had it twice in a little more than a week."
Plenty of help came from staff and friends, he added.
"Our staff was outstanding, and we had a bunch of guys--John Wilsey, Ron Gaige, Cliff Hay, Andrew Noble--who really helped out," Mr. Crapser said.
Further east, McCarthy Tire and the Dunkin Donut Plaza were flooded by Cobleskill Creek.
McCarthy Tire had more than 18 inches of water from Irene; Lee brought water "three feet in the shop," Nate Bartlett said.
But Irene had given them practice, and workers had a 900-gallon-per-minute pump waiting for Lee.
"We were ready this time," Mr. Bartlett said. "It set us back a bit, but we're up and running."
The Plaza had less water from Lee, about a foot in most stores, which limited damage.
"Some files got wet, but luckily all our electrical equipment was on counter tops," said David Aidone of Aidone's Eye Care.
"It's mostly just cleanup."
Some businesses were looking for new sites. Some firms were coming from harder-hit Schoharie and Middleburgh, others from flooded Cobleskill sites.
Mr. Piccolo has been giving them a hand.
"We're not worrying about things like zoning right now and we're not looking at signage," he said.
"We're just trying to get people back on their feet."