Camp Summit becomes flood shelter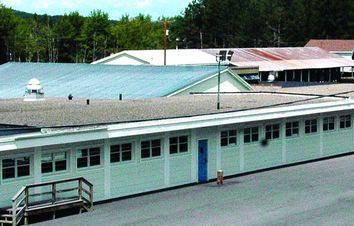 Once a prison, the Summit Shock facility will become a shelter for families made homeless by Irene and Lee.
Assemblyman Pete Lopez and Board of Supervisors Chairman Harold Vroman negotiated the arrangement with state officials over the weekend.
Summit Shock may not be ideal, but it's workable, Mr. Vroman added.
Summit may be more attractive because the Federal Emergency Management Agency is unlikely to bring in temporary housing, at least at first. (See related story.)
"I admit it's not the best," Mr. Vroman said of Summit, "but having a roof over their heads, being warm and fed is better than being out on the street."
Governor Andrew Cuomo announced that Summit Shock would close as a cost-cutting move this summer. Inmates were moved to other prisons in early August, and the state's been seeking another use for Summit since then.
Now there is one.
Mr. Vroman said the state Department of Correctional Services and Office of General Services agreed to the plan.
"It's ready to go as soon as we get the numbers [of homeless] to them," Mr. Vroman said.
Dormitory A and the visitors' building at the prison will be available first, Assemblyman Lopez said.
Dorm A, with rooms similar to a college dormitory, can house 45 to 50 people, and the visitors' building, a smaller amount, he said.
About 200 more could be housed in the main prison area, Assemblyman Lopez said.
"It's a big step to the next level, the main campus, but it's there if the needs are greater," he said.
How to identify the homeless, know how many there are and reach them are all issues.
"We don't have that number," Mr. Vroman said. "We have teams out there trying to get that nailed down."
He added that the county Department of Social Services would be a start.
Also, people could call county Auditor Karen Miller, who's also the public information officer after the disaster, at 231-0383.
Summit would be available, Mr. Vroman said, "as long as it was needed."
That means until people rebuild or repair their homes, he said.
"With winter coming, there's not much time in the Northeast," Mr. Vroman said.
"The whole premise is to get a handle on the homeless situation, the people living in tents and in vehicles," Assemblyman Lopez added.
Dorm A and the visitors' building have separate heating plants, but the rooms lack kitchen facilities.
Mr. Vroman said the Red Cross, Salvation Army, donations from the public and the county itself would provide food.
"Ultimately, the county would see that these people are fed," Mr. Vroman said.
The county would be responsible for not only the costs of food, but also heat and electric, Assemblyman Lopez said.
Officials would press the Federal Emergency Management Administration for reimbursement, he said.
Mr. Vroman agreed.
"It should be FEMA," he said. "The people wouldn't be there except for the disaster."