Huh? FEMA says no need for housing
| | |
| --- | --- |
| 9/21/2011 | By Patsy Nicosia |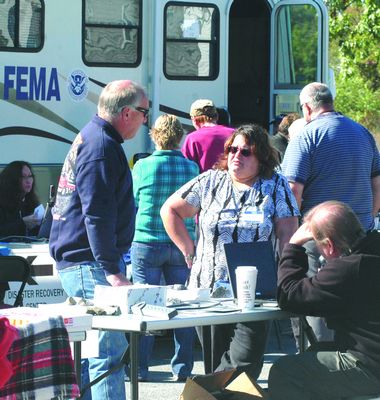 FEMA believes there's no need for temporary housing here for victims of Hurricane Irene.
Schoharie County begs to disagree.
After a face-to-face meeting with FEMA housing representatives Monday, Planning & Development Director Alicia Terry said the agency has agreed to take a second look and see if they can come up with numbers closer to the county's.
"FEMA says there isn't a need. But in the world I live in, where people are stopping me in the post office, there is a need," Ms. Terry said.
Ms. Terry said the county has asked FEMA to send out six teams to take a closer look at how many people will need somewhere to live while repairing their homes.
By the county's estimate, 850 buildings-not all of them homes-suffered major damage in the flood.
"Can I guesstimate that half of them are essentially homeless? I don't know," Ms. Terry said.
"I'm working without an office and without real numbers. But I'd say at least a quarter..."
According to FEMA spokesman Nate Custer, FEMA has identified "numerous rental units available within a reasonable distance of 35-40 miles."
At this time, Mr. Custer said in an email Sunday, there are no plans to bring in temporary housing.
FEMA will help flood victims with rent costs on a sliding scale depending on income for at least two months, Mr. Custer said.
In any case, temporary housing-manufactured homes-would be brought in only as a last resort, he said.
Ms. Terry said a likely reason why FEMA's numbers don't agree with the county's is the way the questions are asked on the registration form, specifically, "Do you have a place to live?"
"People answered the best way they could," she said. "They may be staying with a brother-in-law. Or in a friend's basement. But the answers didn't bump it up to the next level.
"Sure, they might be able to stay there for two weeks. But the 18 weeks it's going to take to rebuild their home? Probably not."
Complicating the rebuilding problem is the fact that many homes in the flood plain will have to rebuilt to stricter, more expensive standards.
Additionally, Ms. Terry said, buildings more than 51 percent damaged can't simply be repaired; owners must hire an architect or engineer to draw up plans for the job.
Ms. Terry said she's also concerned with FEMA's belief that apartments 35-40 miles away are "local."
"The business community had said again and again that if there aren't people here to go to their pizza shops or beauty shops, there's no sense in rebuilding," she said.
"Everyone's afraid that once people leave, they won't be coming back."
One temporary solution the county looking at is reopening Camp Summit to some of those who've lost their homes. (See related story.)
"It's not a longterm solution but it is part of a multi-pronged approach," Ms. Terry said. "It's a potential option," in part because continuing to stay in hotels is becoming too expensive for everyone involved.
"We've always looked at agriculture and business as the backbones of Schoharie County," she added," but without homes, there won't be people. And without people..."