Marantha breaks ground on $5 million project
| | |
| --- | --- |
| 12/7/2011 | By Patsy Nicosia |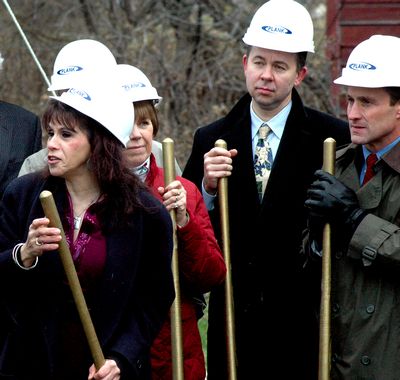 History was made in Richmondville Wednesday when Stella McKenna gathered friends and supporters together to break ground on her Maranatha Family Center.
"They say good things come to those who wait," said State Senator Jim Seward during remarks afterwards inside.
"This is great news at a time when we really need it. Stella deserves credit for her perseverance."
Ms. McKenna was awarded $2.3 million in highly-competitive Restore New York grants in September 2009, but her Route 7 project, adjacent to the Cobleskill-Richmondville High School, was in development for years prior to that.
When the ribbon is cut on the new sports and health facility-in August if all goes as planned-it will feature a 61,000 square-foot building for Ms. McKenna's physical therapy and gym businesses, now located on Elm Street, Cobleskill.
Lynette Kubat, Maranatha Family Center manager, said there will be space there for indoor soccer, basketball, a children's fitness area, and space available for health-related businesses.
The Cobleskill Creek Trail, also under development, will run behind the property, coming out on Route 7.
Ms. Kubat said the total cost of the project is $5.1 million and it's expected to create 44 jobs.
After a quick ceremonial groundbreaking outside, the group moved inside to the yellow Colonial on the property where Ms. McKenna and her family will be living.
Senator Seward called the Restore New York grant the "lynchpin" to making the project a reality.
"It's a true example of state, county, and local governments working together," he said.
Assemblyman Pete Lopez called Ms. McKenna "the Little Engine that could," for her persistence.
"There were so many meetings where we asked 'How can we make this work? How can we put it together?' I can't remember how many times we went to the drawing board but everybody put it together.
"This is a sign of hope...a sign of life. We need more projects like this."