Miles away, Carlisle still lending a hand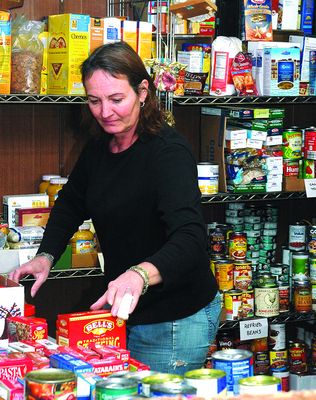 Miles away from significant flooding during Irene and Lee, Carlisle hosted--and continues to host--longstanding relief for victims of those disasters.
The Carlisle Fire Department, from the day Irene struck through Christmas and beyond, has provided everything from hot meals to furniture.
Even the volunteers' home base morphed from a fire house to a shelter to a warehouse for donations.
It all started on Irene Day, when the department was toned out to help and the auxiliary--"my girls," Chief Sue Bortell calls them--came to cook meals.
Because bridges were out, the Thruway was closed, so traffic was re-routed to Route 20, where the fire house sits.
But travelers couldn't get far on Route 20, either.
"Things were going downhill pretty fast," Chief Bortell said. "Parents were taking their kids to college in Massachusetts, Connecticut, but they couldn't get there.
"So we opened as a shelter. We had 30 people here that night. None of them were locals; they were all from out of town."
Volunteers ran out of food, so they put a call out to neighbors, and more meals arrived.
And as travelers left in the following days, Carlisle's effort grew. Firefighters and auxilians provided three meals a day for the hamlet of Livingstonville.
"We asked what do you need, and they said, food," Chief Bortell said.
"We started with sandwiches and then called back, and my girls made chili. We even did a chicken barbecue there."
Volunteers then began collecting furniture and household items, and as their reputation grew, donations came from everywhere.
"Carlisle, Cobleskill, Sharon Springs, Colonie, Albany, everywhere," Chief Bortell said.
Goods overflowed the fire house and were stored in the town hall, old school house and highway garage.
Those buildings served as a virtual department store for flood victims, invited by volunteers to shop for free.
Chief Bortell estimated that four to 17 families shopped at the department at its peak through the fall.
And as furniture and every kind of food or utensil went out, more came in.
"People just brought stuff," Chief Bortell said. "It was overwhelming for me, knowing the economy.
"People would dig into their pockets and offer $5 or $20. 'Would it help?' they asked. 'Yes,' we said. It was amazing."
One new-found friend who may have helped the most was Bill Schmitt, a retired fire chief from Colonie. (See related story.)
Donations coming in and being picked up continued strongly, and as the holidays approached, Chief Bortell realized there were more needs.
Volunteers sought toys and then set up a separate room so that parents could shop without kids seeing what they picked out.
And as with furniture and food, the toy donations came from everywhere.
"Kids would come in and donate one of their toys," Chief Bortell said, laughing. "It still gives me goosebumps. I couldn't make this up."
The department also put together dinner boxes--ham and all the fixings--for 180 families. Chief Bortell credited fellow volunteer Debi Christman and others for this effort.
"There's the Community Thanksgiving, but there's nothing for Christmas," Chief Bortell said. "We had to do that."
Carlisle's store is winding down now, though it will stay open for all goods through January 15. Even after that, it will remain open for food, personal hygiene items and coats after that.
Chief Bortell is quick to point out that the four-month-plus project was the work not only of the department's 35 members and auxiliary, but also dozens of others.
"Everyone had a hand in this," she said. "It wouldn't be possible without our volunteers who were here seven days a week and all the people who donated."
And the final question is this: Why and how could volunteers miles away from a disaster sustain an effort for so long?
"This is what we do," Chief Bortell said. "If you're in a fire department, you help people."