Local schools lobby for more aid, fewer regs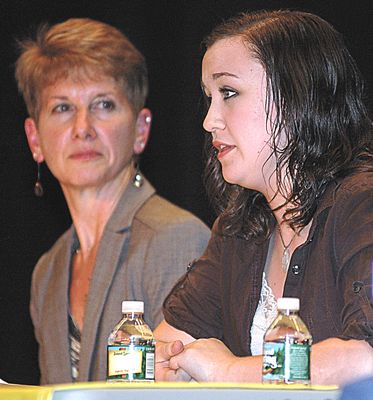 Public schools of all stripes need more state aid and a loosening of state regulations.
That was the message representatives from five districts repeatedly hammered home at a South Colonie press conference Thursday.
Reps from Cobleskill-Richmondville and Schoharie joined others from Schenectady, Niskayuna and South Colonie at a session designed to reach legislators.
But while there were 400 teachers, parents and school supporters in the audience, only one legislator who's seeking re-election--Assemblyman Pete Lopez--attended. (See related stories.)
Organized by the advocacy group Educate NY Now!, the press conference had speakers from each district explain how state cuts had crippled programs.
Most focused on the Gap Elimination Adjustment, which was Governor Andrew Cuomo's tactic to withhold school aid to close the state budget gap.
The GEA cost each district millions over several years, resulting in cut staff and programs for kids.
"You can bet losses in your district are statewide in nature," said Chad Radock of Educate NY Now!.
Speakers echoed those words.
"It's nice for a school district to be first in the state for something, but Schoharie was first in the entire state in money lost per pupil in GEA," said Schoharie Superintendent Brian Sherman.
As a result, Schoharie has cut 22 staffers and lost activities and sports, Mr. Sherman said.
To help, the district is doing more sharing in transportation, counselors and on athletic teams. And the community raised money to restore junior varsity sports.
But the state cuts combined with devastation wrought by Irene put Schoharie in dire condition, Mr. Sherman said.
Edie Schultz, vice president of the Schoharie school board and a counselor at Cobleskill-Richmondville, told a more personal story.
Her first son graduated in 2009, her second in 2012, and her third is still at Schoharie. The loss in program offerings over those years is staggering, Ms. Schultz said.
"The offerings we'd like to provide just aren't available" because of the loss of funds, Ms. Schultz said.
Cobleskill-Richmondville freshman Lizzy Moore was the only student to speak. She was pleased last year, as an eighth-grader, when the community raised money to restore orchestra and modified sports.
Lizzy noted those programs are still at risk, yet they're essential to maintain.
"Every student is different. Every student has potential," she said. "Without different activities, students can't reach their full potential.
"Everything starts with education. If we have a well-educated society, we should have a successful society."
C-R Superintendent Lynn Macan detailed her district's cuts and layoffs and called on Albany to relax regulations on how aid is distributed.
"My students are at risk," she said. "We cannot do any more with less."
Change must come from supporters who demand Albany respond, Ms. Macan added.
"Lizzy and every student in our charge is depending on us to do so," she said.
Speakers from other districts made similar points.
South Colonie Superintendent Jonathan Buhner said his district cut 70 teachers as a result of the GEA and limits from the tax-levy cap.
Claiming that "it's not acceptable to de-fund public education," Mr. Buhner urged the audience to act.
"Parents need to talk [to legislators] about what this means for their kids," he said. "You need to make a phone call, write a letter."
Several speakers noted that although the five districts are vastly different--high needs, wealthy, rural, suburban, urban--they're all hurt by the GEA.
"Without changes in legislation or funding, we won't have to worry about the GEA. We're going to need CPR instead," said Matt Bourgeois, an assistant superintendent at Niskayuna.
Educate NY Now!, a statewide group, is continuing its campaign, Mr. Radock said. The group plans to take 10 busloads of speakers from around the state to lobby in Albany December 5.