Run 4 the Hills benefit for Sharon FD/Rescue Squad
| | |
| --- | --- |
| 4/1/2014 | By Patsy Nicosia |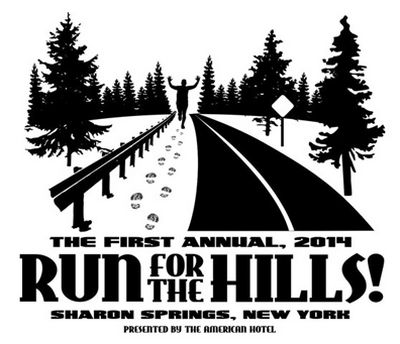 Inspired by emergency workers' response in the wake of the April 13, 2013, Boston Marathon bombings, Garth Roberts, a Sharon Springs runner and now, philanthropist, will inaugurate his Run 4 The Hills, a four-mile walk-run and benefit for his local fire department and rescue squad in a May 3 race.
The race course is a challenging one, beginning and ending at the American Hotel, and heading up Pavilion Avenue, down Goodrich and Kilts Roads, and back up the Dugway through the village of Sharon Springs.
Mr. Roberts is hoping the spectacular views and music along the course will help inspire runners, but jokes that it's called Run 4 the Hills for a reason.
"It's almost all hills around here...there's no getting away from them," he said with a laugh. "You might go down, but you'll have to go up again eventually."
Registration for the race, which will be capped at 150 runners, can be done online at www.active.com. Search for "Sharon Springs." Registration closes April 15.
Spots are filling up quickly, Mr. Robert said, but if they haven't reached their cap by Friday, May 2, when packets will be available at the American from 3-5pm, or race morning, when they'll be available from 7:30-8:30am, signup will be extended.
All runners will receive a race t-shirt, and addition to "great music," along the course, there will be music with a DJ at a post-run party,
This first Run 4 The Hills will be a benefit for the Sharon Springs Fire Department and Rescue Squad and future races will benefit other departments and squads throughout Schoharie County.
"They all do such a great job and give so much back to the community and they all need money," Mr. Robert said. "This is my way of acknowledging that and helping them out."
Mr. Roberts has run in seven Boston Marathons and was so inspired by emergency workers who rushed into the scene of last year's bombings that he created Hero Fund America to thank them.
That effort is based in Provincetown, Massachusetts, where Mr. Roberts and his husband, Doug Plummer, mayor of Sharon Springs, own a vacation and rental home.
Working with the community there, Hero Fund America was able to raise enough through fundraisers and donations to treat 45 Boston EMS workers and their spouses to a mid-week stay in Provincetown, along with gift certificates for everything from free oil changes to massages.
It's Mr. Robert's plan there that in a few years, the community will take the project over and his not-for-profit can take the model to other communities.
"What I'm doing back at home is loosely tied into this," he explained. "It's sort of a response to me recognizing what first responders do-something we all take for granted."
Mr. Roberts won't be running this year's Boston Marathon.
Instead, he's been invited to volunteer at the finish line with the Boston EMS.
"It'll be a good chance to meet people and help cheer the runners up, but mostly, it's a great honor," he said. "I'm so excited."
More information on both Run 4 The Hills and the Hero Fund America is available on Facebook.
You can also follow the race on Twitter @4TheHillsRun.
Volunteers are still needed. Call 518.928.6998 or email 4thehillsrun@gmail.com.