SALT: Time to move beyond recovery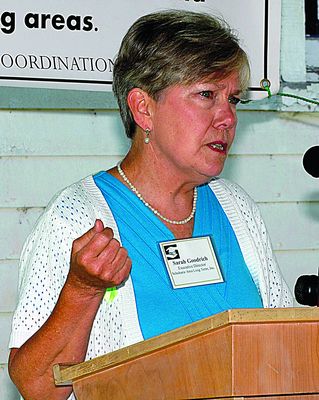 Recovery isn't enough for SALT. Schoharie Area Long Term wants to move beyond recovery from Hurricane Irene and push the Schoharie Valley into renewal.
That was the theme SALT Executive Director Sarah Goodrich and others promoted on Thursday, the third anniversary of Irene, at a press conference in Blenheim.
With strong fundraising and the ability to attract and coordinate thousands of volunteers, SALT's been the leader in helping the Valley recover the past three years.
And although there's been substantial progress, recovery is incomplete. Of all the homes damaged, 73 percent are mostly restored, 12 percent were destroyed and won't be fixed, and 15 remain with work to be done.
"So we are not done," Ms. Goodrich said. "We have to commit and finish this."
Complete recovery isn't SALT's final goal, Ms. Goodrich said, adding that the Valley is at a crossroads.
"Are we saying, 'Recovery is it? Rebuild and stop?' Are we ready to stop here? Or do we aim higher?" Ms. Goodrich asked.
"Or do we use our devastation to release our potential?"
The press conference was in the shadow of the former Blenheim Presbyterian Church, the soon-to-be Blenheim Community Center. Blenheim developing a community center is a significant example of going beyond recovery, Goodrich said.
Blenheim speakers Thursday echoed Ms. Goodrich's enthusiasm. The community center, when finished, will be the first in Schoharie County, said Renee Grabowski, deputy town supervisor.
"We see wonderful changes coming and new ideas," Ms. Grabowski said, laughing while offering a jar for donations for the center.
Don Airey, chair of the Blenheim Long Term Community Recovery Committee, added that his town has more plans to move beyond recovery: A replaced Blenheim Covered Bridge, fitness park and hiking trail.
"Engagement is the key to everything we've accomplished in this county," Mr. Airey said.
Promoting attractions--outdoor recreation, specialty shops, farm stands and more--is essential, Ms. Goodrich said.
"We want to be doing more," she added. "The 'more' is our vision, where we want to be or we're going to be. Exciting ideas are flowing everywhere.
"SALT is a catalyst. We want to move into renewal."
Challenges lie ahead, Ms. Goodrich said: that the Valley has the image of "that flooded place," that the geographic spread of recovery is too large and that money is needed to continue.
"We know better and have to get the word out," she said of the "flooded place" image.
As for geographic spread, "It was always that way from the beginning. We knew that," she said.
And money?
"We have big visions, and big dollars will follow big visions," Ms. Goodrich said. "If we are committed, the dollars will follow."
Other speakers picked up on the pledge for recovery, then renewal.
"We are moving forward; we will not rest," Assemblyman Pete Lopez said. "We will build stronger, we will build better, and we will build smarter."
Congressman Chris Gibson said he'll be "a passionate ally" of SALT and the Valley.
"The resilience of the people here is on display," the Congressman said. "Lesser people would have folded."
Middleburgh Mayor Matthew Avitable touched on the redoubled effort but noted the past achievements.
"We're moving into a new phase," he said, "but nothing would have happened without people doing so much and asking for so little."