Cobleskill Regional kicks off ED rehab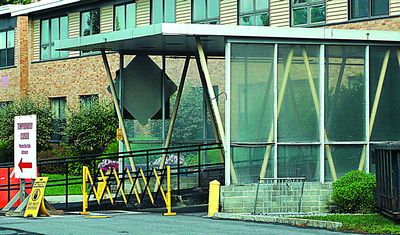 Much more efficient care is the aim of a $6 million renovation of the Emergency Department at Cobleskill Regional Hospital.
Expected to take almost a year, the renovation begins this week.
"The ED was built in the '70s, and it hasn't had a major upgrade since then," said hospital president and CEO Eric Stein.
"We're very excited about this."
The renovation won't interrupt emergency services. (See related story.)
Although the existing 5,640-square-foot Emergency Department will be completely overhauled, it will also increase to about 8,000 square feet, pushing out the west side to where the edge of the ambulance canopy is now.
But it's not just larger. There will be 10 spots for patients instead of the current eight. The rooms will be more private; among the current eight slots, three are in one room. That won't be the case after the renovation.
Also:
•There will be two "fast track" slots to treat minor injuries more quickly.
•The triage area where patients explain symptoms, now in a public area of the lobby, will be a private room.
•A new nurses' station will have clear lines of sight to much of the Emergency Department.
•There will be a private consulting room.
•A medicine room will let nurses get medications without being distracted.
•A room for larger patients, with a larger bed, toilet and other features, will be available.
•Suturing will be cart-based, allowing it to be moved from room to room, so that doctors and patients won't have to wait for the current suturing room.
•An emergency services room for ambulance squads will reduce hall traffic.
•There will be four registration desks, two for the Emergency Department and two for in-patient services and clinics.
•In some cases, patients will be registered in their ED rooms to speed up treatment.
•The decontamination room, where patients are washed of gas or chemicals, will be indoors; it's outside now.
Efficiency and speed are the main objects of the renovation. Now, for instance, the patients often must go between registration and triage several times.
"We're improving the design to improve the flow of patients to speed things up," said Dr. David Fanion, ED medical director.
"We're really focusing on an enhanced experience. The quality of care will remain the same. It's excellent now; it will be excellent then."
Some of the changes appear small, like the emergency services room for ambulance squads, but have a large impact.
"The EMS room seems minor, but it will reduce traffic, and everything adds to efficiency," said Joan Goodrich, director of Emergency Services.
Expected to be finished in July 2015, the new Emergency Department will improve services to the busiest--and most visited--area of the hospital.
"There are real improvements here," said Mr. Stein, adding that the renovation is the first major project in more than a decade. "For the amount of space we're using, it will be very efficient."
The renovation comes as the hospital is celebrating its 20th anniversary of being affiliated with Bassett Healthcare, Mr. Stein said.
"That's proven to be a very good relationship," he said. "It's put us in a great position to do a project like this."