Hibernians helping Sharon dry out
| | |
| --- | --- |
| 9/3/2014 | By Patsy Nicosia |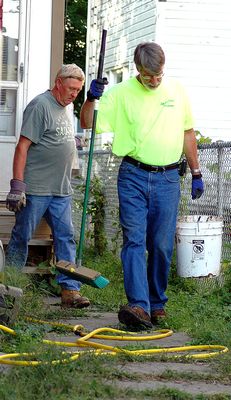 Sharon Springs got a hand from the Ancient Order of Hibernians Thursday when volunteers from the group's Boots on the Ground Disaster Recovery team turned out to help with flood cleanup.
As much as nine inches of rain two weeks ago flooded portions of both the village and the town; Marilyn Wagner watched from the porch of her Route 20 home as water came within inches.
"For fifteen minutes, you couldn't even see the school across the street," she said. "There were cars stuck and flooded out everywhere. We've had water in the road before, but never anything like this."
Though the water never got into her house, Ms. Wagner said it went into her basement where it came up as high as her third step, leaving debris and mud behind.
Outside, it also shifted rocks in her foundation.
The Carlisle Fire Department pumped out Ms. Wagner's basement-the Sharon Springs FD was busy at other homes-and at first, she tried to do the cleanup herself.
"I just don't like to ask for help," she said. "I never have."
But the steep stairs and close quarters of the basement made the job more than she could handle and after hauling out three buckers of the mess, she relented.
Thursday, four volunteers from the Hibernians, an Irish-Catholic group that also lent a hand during Hurricane Sandy and has worked in Schoharie, turned out to finish the job.
As Anne MacCuish of the Schoharie County Office of Emergency Management, and Angelika Klapputh of the American Red Cross talked with Ms. Wagner to find out what else she needed, the Hiberanians, Tim McSweeney, Don McHenry, Ed Kelley, and Sean Scanlon went to work on her basement.
Spokesman Mr. McSweeney said the Hibernians are in the process of expanding their disaster relief efforts.
They're all volunteers, he said, adding with a laugh, "with strong backs" and a stronger sense of humor.
"I really appreciate they're coming out like this," Ms. Wagner said. "I just couldn't do it myself."
Ms. Klapputh also praised the volunteers.
"They've been a great partner of the team," which includes the county, Schoharie County Community Action Program, Catholic Charities, and the Red Cross.
"We're quite proud of the collaboration."