Patriot Highlander Challenge all about vets
| | |
| --- | --- |
| 9/3/2014 | By Patsy Nicosia |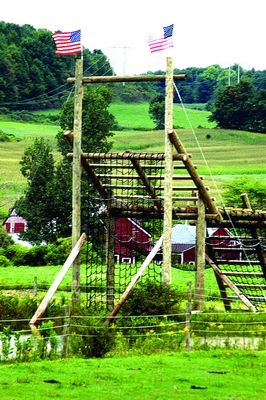 If you've got the guts and the courage to tackle obstacles like an eight-foot-high wall, 50-foot long low crawl, or a double rope bridge, there's still time to sign up for the September 13 Patriot Highlander Challenge.
The event will be held at Sunny Knolls Farm in Cobleskill as a fundraiser for wounded veterans.
Already, 400 people have signed up for the challenge and since work began last September, nearly 100 people have had a hand in building the course.
Another 100-most of them active or retired military--are expected on the 13th to help with the event, said organizer and veteran Kirk Holmes.
Mr. Holmes has served tours of duty in both Iraq and Afghanistan and a few years ago, he and his family opened their farm up to wounded vets from the Adaptive Sports Foundation in Windham for a day on horseback.
Though the Patriot Highlander Challenge isn't directly connected to that, Mr. Holmes said they've stayed in touch with the ASF, which will be sending up a team of 10 injured veterans.
The event is a fundraiser for ASF and for Team Red, White, and Blue, another non-profit that works with vets.
Both, Mr. Holmes said, believe in the importance of bringing veterans together for physical activity and it's his long-term goal to create a place for adaptive sports events and training at the 160-acre Sunny Knolls.
With the help of pro-bono attorneys from Washington, DC, Patriot Highlander Challenge has been working to get its not-for-profit status, something it expects to complete next year.
Right now, though, Mr. Holmes has a challenge to put on.
Thursday he drove the course with Cobleskill Fire Chief Rich Cooper, who'll be helping to fill mud holes on both the three- and six-mile courses.
Schoharie County Sheriff Tony Desmond has already been on-site to help figure out parking, and teams have been giving the course and obstacles a trial run.
"It's just like a military operation," Mr. Holmes said with a laugh. "Or maybe an invasion."
Veteran Rick Yarosh, a Windsor native who suffered third-degree burns and amputations after hitting an IED in Iraq on September 1, 2006 and now works as a motivational speaker, has offered to be the "voice" of the event and will speak at a 2pm BBQ and celebration following the event.
The challenge itself kicks off at 7:30am with the first of three competitive heats along with patriotic music and plenty of American flags.
"I've seen a lot of soldiers with PTSD, but Rick has always said he doesn't have those issues because of his family support," Mr. Holmes said.
"And that's an important part of what we're trying to do. We don't want soldiers coming by themselves; we want family and friends to feel welcome and we want the community to be involved-and they have. Our number one focus is on Schoharie County."
The ASF team is staying at the Cobleskill Best Western and will be escorted to Sunny Knolls by a motorcycle honor guard.
Also expected is the family of Lieutenant Colonel Terry Crowe, from the Grand Island, near Buffalo.
Lieutenant Colonel Crowe, an Army Reservist, was 44 when he was killed in action in Tal Afar, Iraq, June 7, 2005-land recently taken back, Mr. Holmes pointed out, by the militant Islamic group ISIS, responsible for beheading journalist James Foley.
"We're glad to have them," he said of the Crowe family.
The Patriot Highlander Committee includes Tom Rumsey, a business executive who flew in Somalia and Afghanistan; Gary Schacher of the Schoharie County American Legion, a retired Naval chief petty officer; Matt Jones, a US Army colonel whose been on four combat tours, and Mr. Holmes' dad, MacDonald Holmes.
The course features three-mile and six-mile courses as well as a half-mile and mile kid's run, and the 18 course obstacles are named with a nod to local history.
The event will include food and vendors; bagpipers-another nod to local history-will be stationed throughout the course.
Free parking will be available of Rock District Road; there will be an admission charge for spectators.
To register or for more information, go to Patriothighlander.com.
Plans now are to repeat the challenge next year and then maybe every other year, Mr. Holmes said.
"It's a tough course," he said. "We'll see how it goes."