New C-R superintendent helps kick off new school year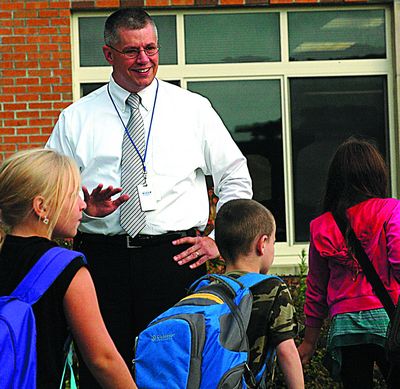 Cobleskill-Richmondville got off to a smooth start for a new school year, and with a new superintendent on board, too.
"I'm pleased to be here. We're off to a terrific start," new Superintendent Carl Mummenthey told school board members Monday night.
Mr. Mummenthey officially started September 1, taking over from the retired Lynn Macan.
"We've turned the page. This is the Mummenthey era," school board President Bruce Tryon said in welcoming the new superintendent.
Mr. Mummenthey said C-R opened the year with 1,818 students, down just slightly from the 1,834 figure last year.
"Upstate schools have been in a loss environment, but Cobleskill-Richmondville has been stable," Mr. Mummenthey said.
Building principals echoed his report of smooth opening days last week.
High School Principal Mel Ausfeld said only freshmen came the first day to run through their schedules and get familiar with the school before enjoying an ice cream social at the end of the day.
Twelfth-graders had their senior breakfast on Friday, and this week, there will be a club and activity fair and picture day.
The high school open house is September 18, Ms. Ausfeld said.
Mr. Mummenthey reported for Middle School Principal Scott McDonald, who was ill.
Golding School opened the year with a new program, WEB--Where Everybody Belongs--that has eighth-graders welcome and mentor incoming sixth-graders. (See WEB story elsewhere in this issue.)
"It's all about positive attitudes and being a good friend," Mr. Mummenthey said.
Golding's open house is September 17.
The first day at Radez School went smoothly despite an unexpected fire drill, Principal Brett Barr said.
"It happened at lunch time, when you really don't want it to, but I was proud of the way our staff and students handled it," Mr. Barr said.
He's also proud of a new vision developed over the summer by teachers and staff. With each letter of Radez representing a message, the vision is:
Relationships matter, Achieve academic excellence, Dream big, Everyone works together and Zest for learning.
"We hashed this out over the summer, and we want to mesh this vision with what goes on in the classroom," Mr. Barr said.
Open house at Radez is September 16.
Ryder School Principal Kevin Kelly said his school "is busting at the seams" with more students than last year.
Ryder has seven first-grade sections instead of last year's six, and the school has also taken on the children's center, for three- to five-year-olds, and the pre-kindergarten program.
"It adds to that primary feeling at Ryder," Mr. Kelly said.
Ryder's open house is September 11, he said.

• • •
In other opening-day business, school board members approved Mr. Mummenthey's new contract.
It's a three-year pact, with the first year's salary set at $143,500, pro-rated to start September 1. The school fiscal year is July 1 to June 30.
Mr. Tryon said Mr. Mummenthey doesn't intend to subscribe to the district's health insurance plan, "so that will save us a considerable amount of money."
"I'm positive we have the right man, and he will do a fantastic job for us," Mr. Tryon said.