SCOPE meeting focuses on vets, candidates, local chapter
| | |
| --- | --- |
| 9/16/2014 | By Patsy Nicosia |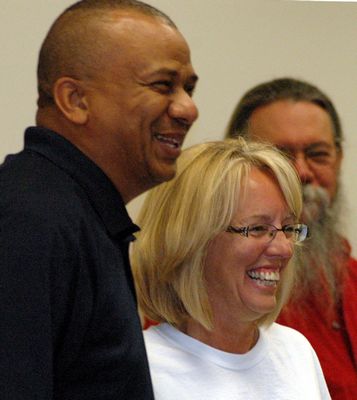 With veterans, gun rights, and November's election on their minds, more than 75 people turned out Friday in hopes of organizing a local chapter of SCOPE-Shooters Committee on Political Education.
SCOPE was founded in 1965; its 16 chapters are dedicated to monitoring state and local gun legislation, supporting Second Amendment candidates, and speaking out against anti-gun efforts, especially the SAFE Act.
Friday's meeting was held at the Carlisle Town Hall, where Supervisor Larry Bradt and Councilman Kevin Sisson have helped lead the fight for gun rights.
"There are a lot of strong feelings against the SAFE Act here," Mr. Bradt said before Friday's meeting, "especially when you start talking to some of the older vets. It's really hurtful. They ask themselves, 'What do I fight for if not our Second Amendment rights?'"
Mr. Bradt's wife's grandfather, 94-year-old Ken Baker, was one of the veterans recognized at the start of the meeting.
Mr. Baker was born May 8, 1920 in Epserance and served as a private first class in the Army from September 7, 1942 to February 5, 1945.
He was wounded in action in Germany on September 23, 1944, and earned a Purple Heart and five battle stars.
Meoldt Burns of The Voice of Freedom spoke to SCOPE's efforts against the "Un-SAFE Act."
"SCOPE was one of the first organizations out there, throwing money against Governor Cuomo, willing to stand up for what they believed in," she said.
Chemung County Sheriff Chris Moss is running as Rob Astorino's lieutenant governor in November's state election.
In remarks to the crowd, he called Governor Cuomo vulnerable, not just because of the SAFE Act, but because of the economy, taxes, and Common Core.
"You guys can make a difference, but you have to fund a way to get everyone you know to the polls on November 4," he said. "That's the day we can take it all back."
If his team is elected, Sheriff Moss promised to repeal the SAFE Act on their first day in office by de-funding it.
"I'm told there's a phase two of the SAFE Act in the works," he added, "And that we won't heard anything till after the election. But what more can they do to us?"
Also on hand Friday was Fulton County Sheriff Tom Lorey and Schoharie County Sheriff Tony Desmond, both of whom vowed to continue fighting the SAFE Act.
Assemblyman Pete Lopez said SCOPE is unique in that as a political action committee, it can do things that groups like the Schoharie County Conservation Association and other sportsmen's organizations can't.
For more information on the local SCOPE chapter, contact Dave Goslyn at narrowgate1@gmail.com or go online to SCOPENY.org.