Cobleskill Regional Hospital ED breaks ground--indoors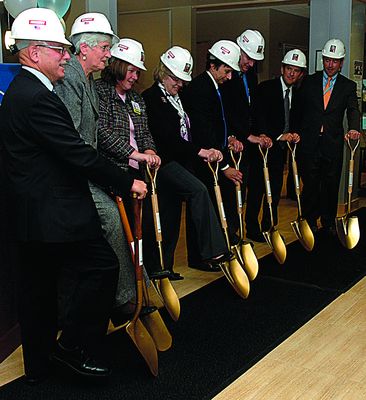 It was one of those rare indoor groundbreakings using carpet instead of earth, but the ceremony on Monday was significant all the same:
The start of Cobleskill Regional Hospital's $6 million renovation of its Emergency Department.
Hospital officials, Bassett Healthcare leaders and community representatives took part in the event, held in the lobby of the new Primary Care Center above the hospital.
The renovation will update technology, improve patient privacy, smooth the flow of patient care and expand the Emergency Department by more than 2,000 square feet, to 7,700 square feet.
But, said hospital President and CEO Eric Stein, this "is more than a renovation. It comes at the 20th anniversary of being affiliated with Bassett Healthcare Network.
"Because of this successful affiliation we can continue to invest in Schoharie County."
Dr. Vance Brown, who became CEO of Bassett Healthcare earlier this year, said how impressed he was during his half-dozen visits to the hospital.
"I saw how well-run it is and how the community cares for this place," he said.
At the same time, Dr. Brown continued, during a tour of the hospital, "I thought, 'Boy, you guys need a new emergency room.' "
Dr. Brown called the Emergency Department "the front door of the hospital" because so many patients enter there.
"This will be a much more modern facility," Dr. Brown said.
Although the hospital and Bassett are leading the project, he added, "it's the generosity of the community that is pushing this project through."
Officials recognized Steve Harris of Sterling Insurance, whose company recently donated $125,000 to the hospital's $1 million fund drive for the project.
Mr. Stein noted that Sam Shevat and Anne Myers are chairing the fundraising committee.
About 40 people watched as hospital and Bassett officials wielded shovels on the carpet for a ceremonial photo.
The event was indoors because most other space is disrupted by the construction, which actually did start on Monday, Mr. Stein said.
The Primary Care Center lobby was the only available spot, he said.
"We're here because there's no other space," Mr. Stein said. "Every other square inch is reserved for parking."