Schoharie County stream work gets boo$t
| | |
| --- | --- |
| 9/30/2014 | By Patsy Nicosia |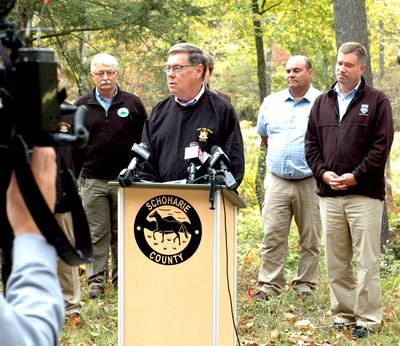 Schoharie County's $25 million stream rehabilitation project got a $900,000 boost Monday from state and federal agencies.
Work on the four streams-the Little Schoharie, Line Creek, Platterkill, and Dave Brown Mountain Tributary-all of which flow into the Schoharie Creek, will begin mid-October and is expected to take six months.
The project will mitigate damage caused by Hurricane Irene and Tropical Storm Lee in 2011.
At a press conference Monday on the banks of the Little Schoharie in Huntersland, where debris from '11 was still visible, legislators and officials spoke to the need to redesign the streams as a way to reduce their impact on the Schoharie and neighboring communities.
"It's hard on a day like today to remember the hardships of Irene and Lee," said State Senator Jim Seward, who worked with the Legislature to secure an additional $650,000 to help close the project's $4.5 million funding gap.
"Redesigning our streams and preparing for future disasters will help save lives, property, and money."
Senator Seward also promised to continue working to try to identify additional state funds that would help mitigate the local share-20 percent-of project costs.
Greg Kist from the USDA's Natural Resources Conservation Service, the federal agency that's covering 75 percent of the project's cost, praised the local-state-federal partnership as he announced an additional $300,000 in funding.
"The longer these streams sit...the greater the potential for disaster," he said.
The county's Emergency Watershed Protection Project is the largest stream restoration project underway in the state, said Congressman Chris Gibson, who also praised the public-private partnership and said the time to protect the watershed is now-not during the next flood or disaster.
"With the changing weather patterns, we have to take action now to mitigate problems in the future," he added.
Both Congressman Gibson and Assemblyman Pete Lopez also spoke to the emotional impact of the 2011 flooding and the need to give residents a sense of security to they can move on with their lives.
"Every time we hear of three or four inches of rain, we get anxious," Assemblyman Lopez said. "It's always on our minds."
Gilboa Supervisor Tony Van Glad, who's also chairman of the Board of Supervisors, offered his thanks for the additional funding.
He's been in touch with Governor Cuomo's office about additional funding to help close the gap, he said, and he's optimistic they'll find it.