For MLK Day, Effie shares own legacy
| | |
| --- | --- |
| 1/21/2015 | By Patsy Nicosia |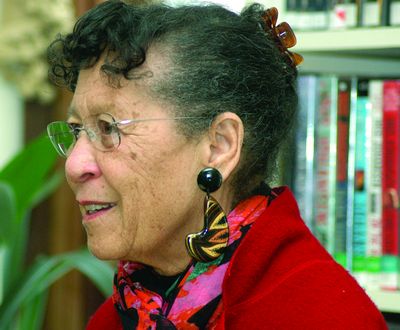 Effie Bennett-Powe's legacy is and will be that of an eloquent, elegant champion of goodness and service who believes, most of all, in children.
That's just part of the story about 35 people took away from Ms. Bennett-Powe's talk on "Leaving a Legacy," Saturday at the Schoharie Free Library, an event held to mark Martin Luther King Jr. Day.
Ms. Bennett-Powe is retired from SUNY Cobleskill's Early Childhood Education Department, which named its Effie Bennett-Powe Childhood Development Center in her honor, and where she was named a Distinguished Service professor and has had a scholarship endowed in her honor, and she is recognized worldwide for her anti-bias efforts.
Saturday, Ms. Bennett-Powe spoke to America's legacy as a country that rallies to lend a hand every time there's a tragedy somewhere in the world.
"We are a people of giving," she said. "That is part of our legacy."
Her own story, though, begins with a different part of history.
She was the oldest daughter of sharecroppers in rural Henryetta, Oklahoma, "who wanted their children to be college-educated so they could escape the tyranny of the cottonfield.
"That's just the way it was," she said.
Ms. Bennett-Powe graduated high school in 1950, a time when schools were very separate and very segregated, she said; their equipment and books were passed down from white schools.
"But that's OK. That's part of history."
Her parents' plan was for them to finance her education at Langston University for the first year. After that she would work.
But that year, the cotton crop failed and her father went to a white grocer, a Mr. Crow, to borrow $50-the difference between her being able to afford college and not.
"I can't believe my father was the exception," Ms. Bennett-Powe said. "Because of my parents and Mr. Crow, I'm here today."
Though she was very shy, "a fearful student," Ms. Bennett-Powe was so inspired by one of her first-semester professors-"For the first time, I felt like a first-class citizen"--that over that Thanksgiving break, she took a seat on the front of a bus behind the driver.
He told her to get to the back of the bus where she belonged.
"This is a scene that's played out in my mind so many times..." she said. "I was heartily embarrassed."
So much so that she never spoke of it to her parents, who would have been even more embarrassed by it, or her sisters.
Only recently did she even tell her daughter. And never again did she try to sit at the front of the bus.
"I longed to achieve what was mine Constitutionally," she said, adding, "The road has not been as easy as it might have been."
In September 1954, Ms. Bennett-Powe was hired alongside four other black teachers, literally on the other side of the tracks.
The following year they were all ordered to resign by the school superintendent, who told them "White folks don't want you teaching their children."
"What choice did we have?" asked Ms. Bennett-Powe.
She worked as a nurse's aide for three years before taking a job in North Dakota teaching Native Americans.
From there, she went to Penn State, where she earned her master's degree and was recruited by Jean Emerson, a teaching pioneer living and working in Cobleskill.
Three invitations later-she'd been planning to rejoin her family, then living in California-she finally said yes.
Ms. Bennett-Powe moved to Cobleskill in 1965 and bought a home there in 1978.
As a way to meet her neighbors, she agreed to canvass for the Red Cross; one couple made it clear she wasn't welcome there and a few days later "Nigger get out," was painted on her house.
"But that was okay," she said. "I was still on my journey."
She was still on it in 2010 when then-Cobleskill Mayor Mark Nadeau resigned after being audio-recorded using the "N" word.
Also recorded using the "N" word was Cobleskill Supervisor Tom Murray, who served out his term.
"That's current, Ms. Bennett-Powe said. "It says to me that we've come a long way, but we're not at the end of the journey yet."
Ms. Bennett-Powe said her most important work has been working with children, teaching them the importance of kindness and friendship.
"My friends have been a great blessing to me and are part of my legacy," she said.