Tioga County murder trial takes over Schoharie
| | |
| --- | --- |
| 1/27/2015 | By Patsy Nicosia |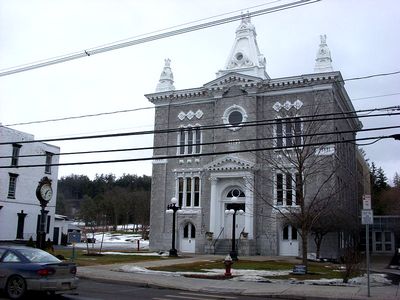 Ten jurors have been seated for the Schoharie County trial of Owego businessman Calvin Harris, charged and convicted twice in the 2001 murder of his wife, Michele.
Jury selection began Thursday and was adjourned Tuesday because of the expected snowstorm.
That leaves four more jurors and an undetermined number of alternates to be picked in what Judge George Bartlett has said will likely be a six to eight week trial.
Mr. Harris, 53, a Tioga County auto dealer, was first convicted in 2007 of murdering his estranged wife, Michele Harris, who disappeared the night of September 11, 2001.
That conviction was overturned after a farmer came forward after the verdict saying he'd seen Ms. Harris with an unidentified man hours after the prosecution said Mr. Harris had killed her.
Mr. Harris was convicted a second time in 2009, but that conviction too was overturned by the New York State Court of Appeals in October 2012, due to apparent trial errors, and yet a third trial was ordered.
Last January, that trial was moved to Schoharie County after Mr. Harris' lawyers argued a fair trial in Tioga County was impossible.
Schoharie County's court costs will be reimbursed by Tioga County, but not all of those costs will be tangible, said County Attorney Mike West.
"There really isn't supposed to be any expense, but with a trial of this length, other cases and other hearings are going to get moved back and that will likely have costs," Mr. West said.
"They'll probably pipe in other judges to help Judge Bartlett, but we're boarding prisoners in Albany County...there's going to be an expense there. And it's all awfully inconvenient for the jurors who'll be involved in this for the next two months-and for Judge Bartlett too."
Close to 1,000 local residents have been notified they could be called for jury selection; 86 reported Thursday, when just four jurors were selected.
"Either you've been called or you know someone who's been called," said a Cobleskill man, one of hundreds excused because of the likely length of the trial.
Tioga County District attorney Kirk Martin, who was elected in November 2013, is prosecuting the case.
Mr. Harris is been being represented by Bruce Barket, part of his Nassau County-based defense team, and maintains his innocence.
He has remained free on the same $500,000 bond he posted in 2007.
According to the prosecution, Ms. Harris, who was 35 when she disappeared, was struck with an object at least twice in her Town of Spencer home late September 11, 2001.
Neither a murder weapon nor Ms. Harris' body have ever been found nor is there an eyewitness to the crime, however.
Blood splatters, however, were found in the home's garage and kitchen, and then-District Attorney Gerald Keene argued that Mr. Harris was the only logical suspect.
Jury selection is slated to continue at 10am today, Wednesday.