SCRABBLE a w-i-n-n-e-r for Literary Volunteers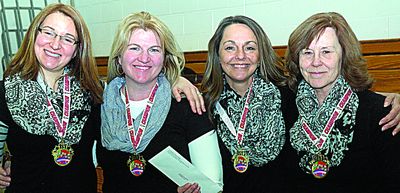 High-scoring words ruled the day at Literacy Volunteers' seventh annual SCRABBLE tournament Saturday at Radez School in Richmondville.
And when the scores were finally tallied, a new SCRABBLE champion won bragging rights--along with cash.
The four-member SCRABBLE Rousers narrowly edged two-time winner Theory of Relativity for first place.
The two teams were among 21 taking part in the tournament, which is a fundraiser for Literacy New York--Fulton, Montgomery and Schoharie Counties, which teaches adults how to read.
Although the SCRABBLE Rousers came out on top, so did the three-county Literacy group. The tournament raised $12,000, a sizable increase from last year's $10,000.
Fundraising was neck and neck with having fun.
"We heard comments all morning that people were really enjoying themselves," said Lisa Cardilli, Literacy Volunteers' executive director.
"Our tournament has become something that people really look forward to. So do we."
The 21 teams competed in four SCRABBLE games, all with different rules. One was a standard game, another had teams unable to use one vowel, a third required words on a theme--this year, music, then a switch to food--and a fourth doubled the score.
Total points from the four games determined the winner. The SCRABBLE Rousers had 9,298 points to Theory of Relativity's 8,904.
SCRABBLE Rouser teammates Helen Suits, Christina Suits, Robin Suits and Tracy Robbins won the $200 first prize.
Theory of Relativity won $100 for second place, while AMT Inc. and CB's each won $100 for finishing third and fourth.
Even though they weren't in the top four, the remaining teams had a shot at a prize. Ms. Cardilli drew one at random, and the Snow Angels won $100.
Other players also won. Emcee Brian Dineen pitched trivia questions in between games--What team did Babe Ruth coach for half a season?--and winners took home gift cards and other prizes.
The Babe coached the Brooklyn Dodgers for part of a season, which was one of the winning answers.
"We do a lot of work beforehand to get this tournament in place," said Jim Poole, Literacy Volunteers' board president. "But it's Brian who makes the event what it is that day.
"He's glib, thinks on his feet and is funny--and Brian keeps it up for three hours. He's great."
Justine's, which fielded a SCRABBLE team, provided breakfast with hot and cold offerings.
Although the tournament raised $1,700 Saturday through registration, a large raffle and players buying extra tiles, most of the fundraising came from business and family donors.
"We're truly grateful for the way the community supports our tournament--all the donors and the players, too," Ms. Cardilli said. "They are all so generous."
"We also appreciate that people recognize how important literacy is."
Donors included Mereness-Putnam and Palmer and Shaylor Funeral Homes, the Times-Journal, AMT Inc., Laberge Group, Sterling Insurance and Sandra Poole, Licensed Associate Real Estate Broker for RealtyUSA.com.
Also, Ann Adams, John Belfance Jr., Bank of Richmondville, Lisa Cardilli and Gordon Sevene, Cobleskill Regional Hospital, Cobleskill Stone Products, County Waste and Recycling, CV Holdings and Bob and Cindy Headwell.
Also, Kelley Farm and Garden, Keymark Corp., Lamont Engineers, Assemblyman Pete Lopez, McDonalds of Fulton, Montgomery and Schoharie Counties, New England Calendar, Paraskeva Excavating and Trucking Co. and the Village of Fultonville.
Also, Cobleskill Rotary Club, FAGE USA Dairy Industry Inc., Perrone Aerospace, Amy & Co Salon, Angelo Planning Group/Whitney W. Merrill, Beacon Insurance Agency Group/John Mancini, Beckmann Converting Inc., Peter and Joan Bent, Michael Breen, Carpets and Then Some, Cobleskill Dental Group, Fonda-Fultonville Teachers Association and Fonda-Fultonville Lions Club.
Also, Gable Dodge Chrysler Jeep, Howe Caverns/Howe Caverns Adventure Park, Hudson River Tractor, W. Kintz Plastics, Maureen LaRose Agency/State Farm Insurance, John M. McDonald Engineering, Bethany Schumann-McGee, ProActive Physical Therapy, The Middleburgh Telephone Company, Twelve Pines Transportation and Veolia Water.