4th death from heroin; vigil draws crowd
| | |
| --- | --- |
| 9/7/2016 | By Patsy Nicosia |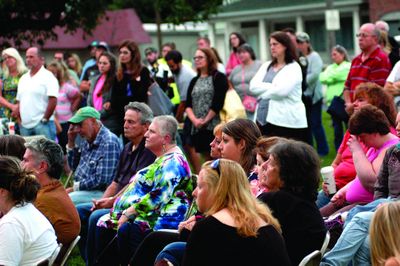 Any other Wednesday, the candlelight vigil in Cobleskill's Center Park wouldn't have such drawn a crowd.
But coming on the heels of three heroin-related overdose deaths in less than 24 hours just the day before, the event drew somewhere between 150 and 200 people.
Organized by Schoharie County's Opiate Task Force Coalition and the Schoharie County Council on Alcoholism and Substance Abuse, the vigil marking International Overdose Awareness Day, was put together months ago.
Which made the timing ironic.
"We're in a battle," SCCASA's Norine Hodges told the crowd. "We can't bury any more children."
A handful of speakers shared stories of addiction and abuse, calling for a better understanding of addiction and an end to the stigma surrounding it.
It took a dozen years for heroin to claim the life of Kristin Hoin's daughter, Summer Smith, and in the end, it wasn't heroin, but rather cocaine that killed her on January 9, 2015, when she was 31.
"Summer wanted to live," Ms. Hoin said. "She fought so courageously against her addiction," something that began as she struggled to deal with childhood sexual abuse.
Ms. Hoin has established the Summer Smith 5K Addiction Awareness Memorial Run, held in June in Guilderland, where she went to school, in part as a way to stop the stigma associated with drug abuse.
"I hope we as a community can work together to start this conversation before it's too late," she said.
District Attorney Jim Sacket called drug addiction one of the most overwhelming and difficult problems that the county faces.
"And it seems to be getting worse and worse," he said. "Young lives cut so short, so early..."
Mr. Sacket said the criminal justice system alone can't handle the problem; one tool, he said, is the Good Samaritan Law, which means law enforcement won't prosecute someone who calls in a drug overdose.
"If you see someone in distress, make that call," he urged. "You won't be prosecuted."
Just like in the inner city, Assemblyman Pete Lopez said, the county's problems with poverty, unemployment, isolation, and lack of education, lead to drug abuse.
"We have a crisis here," he said. "It's a plague that appears limitless...We need more resources. We need to lean on the Governor [to pass legislation].
"On our own county here, we've had deaths. We mourn these deaths."
Jamie Livingston of Cobleskill said his drug addition began after he hurt his back.
"It starts out quietly and then it takes over," he said. "That's why they call it a disease. It's all encompassing."