Sheriff, SCCASA: More $ needed to fight addiction
| | |
| --- | --- |
| 9/7/2016 | By Patsy Nicosia |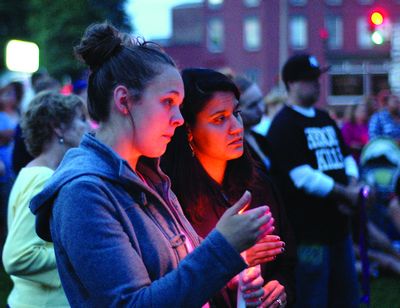 Heroin is hitting home.
In a span of 24 hours beginning last Monday, police responded to calls in Esperance and, the next day, Richmondville that left three dead from heroin.
Monday, August 29, police found Barron Ludewig, 25, of Esperance dead of an apparent heroin overdose.
With him was 20-year-old Taryn Jo Idlefonso, also dead, also of an apparent heroin overdose.
Then on Tuesday, the 30th, they responded to a call in Richmondville where Skyler Levesque, 26, was also found dead, also from a suspected heroin OD.
In June, a heroin overdose was blamed for the death of Anthony Garcia, 26, of Richmondville.
Police said that though the four may have known-or known of-each other, their deaths are unrelated.
"Except for the fact that they were all heroin deaths," Sheriff Tony Desmond said Wednesday at an Opiate Awareness Day vigil held in Cobleskill, something that had been in the works for months. (See coverage on page 17.)
In addition to the deaths, Sheriff Desmond said there have been a handful of incidents in the past few weeks where people who'd overdosed on heroin were revived by Emergency Medical Service workers or police using Narcan, a drug that reverses the effects of heroin.
"So clearly, there could have been more," he said. "But these last three...they were too far gone for that. There's been a real spike, something we don't see very often."
Just how often is a question Norine Hodges, executive director of the Schoharie County Council on Alcohol and Substance Abuse, which helped organize Wednesday's vigil, wants the answer to as well.
Ms. Hodges said it's difficult to track either heroin deaths or the times Narcan prevented because the data's just not there.
"It's frustrating, because we just don't know," she said. "And when Narcan is used, are these people being hooked up with services so they can get well and get out instead of becoming another statistic?"
Sheriff Desmond said he's equally frustrated-but by the fact that not enough money is going toward drug investigations that could help put an end to the problem.
"Money is money, but people are people," he said. "It's frustrating when people ask me, 'Where are the cops?'" Law enforcement costs money."
Sheriff Desmond said he believes the best way to attack the heroin problem is through amped up law enforcement and tougher consequences.
"It worked with DWI," he said.
Sheriff Desmond is among those who met with County administrator Steve Wilson in a closed meeting Thursday to discuss what's being done to deal with the heroin epidemic.
Also attending were Sheriff's deputies, Cobleskill Police Chief Rich Bialkowski, SUNY Cobleskill Chief Frank Lawrence, and Public Health Director Amy Gildemeister.
Afterwards, Sheriff Desmond said he plans to ask Schoharie County supervisors for an additional investigator ASAP and for two new deputies in the 2017 budget.
Ms. Hodges agreed the county needs to spend more money on its heroin battle, but she wants to see it go toward treatment.
"We need to support these folks," she said. "We need to realize they could be anyone. Just like 10 years ago there was so much shame associated with AIDS, we need to get this out in the open and talk about it. This could be anyone."