Heroin battle continues with Narcan training
| | |
| --- | --- |
| 9/28/2016 | By Patsy Nicosia |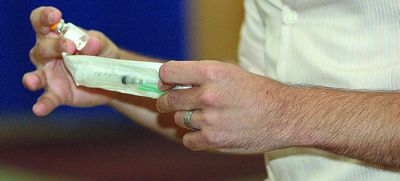 Spurred by the August deaths of four 20-year-olds from heroin ODs and then a vigil that filled Cobleskill's Center Park, about 20 people turned out Tuesday to learn how to administer Narcan.
Just in case.
Narcan is used to reverse the effects of a heroin overdose.
It's not foolproof, Joe Filipone of Project Safe Point, a Catholic Charities effort, told the group as he walked them through the process; it could take one dose to save someone's life.
It could take two.
It could even take eight.
"But I'm going to give you the information you need so you can give it in good faith if you believe you're dealing with an overdose," he said.
"It's a chance to save someone's life."
On August 29, police found Barron Ludewig, 29, and Taryn Idlefonso, 20, dead from apparent heroin overdoses in Esperance.
A day later, the death of Skyler Levesque, 26, of Richmondville, was blamed on heroin; heroin was also blamed for the June death of Anthony Garcia, 26, also of Richmondville.
Though the heroin epidemic has caught some by surprise, Chief Rich Bialkowski, another of those on hand for the SCCASA-sponsored discussion and training, isn't one of them.
"The drug problem is here," he said, and it impacts the community directly-when families lose loved ones-and indirectly through things like shoplifting and domestic violence.
Law enforcement has changed the way it looks at drug addiction, Chief Bialkowski said, and he believes it's best dealt with by partnering enforcement with education.
Which take time and money.
"Our communities are small enough that we know who the regulars are," he said, "Please know that we know who the regulars are. But it takes a lot of time to put a case together."
When it comes to education, Chief Bialkowski said, he's supportive of efforts like drug court-for addicts who need help.
"But when it comes to drug dealers...I say 100 percent they should go to jail," he said.
The Cobleskill Police Department established a confidential drug tip line back in January--call 234-2923 and listen for the prompts-and has raised more than $15,000 for a drug dog.
The Schoharie County Sheriff's Office has also established a drug tip line, 295-2295, and will be hiring another investigator to help.
Figures through April from the Cobleskill Rescue Squad show more than two dozen overdoses were reversed with Narcan over the past two years, Chief Bialkowski said; since the August fatalities, there have been at least a couple.
The CPD has been working to establish an Angel program to help addicts get into recovery programs, but Chief Bialkowski said they've gotten only a half-dozen calls--and have run into difficulties with insurance.
Debra Martin, an insurance navigator through the Catskill Center for Independence, said she's been successful getting addicts on Medicaid, a process that for most, takes 20 minutes and can be in effect within 48 hours.
"I will meet [people] at police stations and do it right there, if that's what it takes," she said.
Ms. Martin can be reached at (607) 432-8000 or cell, (607) 725-7256.
Mr. Filipone said he will also meet one-on-one with anyone interested in Narcan training, 449-3581, extension 130.
Though Narcan can also be administered nasally, the kits Mr. Filipone demonstrated and then handed out last Tuesday used an epipen.
Kayla Lujo of the Bronx is a SUNY Cobleskill student and SCCASA intern who attended last Tuesday's session with three friends.
"Just to be informed and ready," Ms. Lujo said, though she's not sure if heroin use is a problem on-campus. "It seemed like good information for us to have."