Ambitious plans ahead under county ag plan
| | |
| --- | --- |
| 1/17/2017 | By Patsy Nicosia |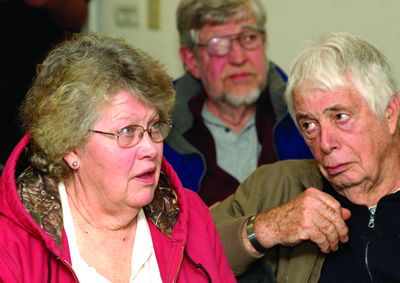 If Schoharie County's agriculture had a crystal ball, this is what it would look like:
Its 532 farms would be profitable, yet efficient, supported by an informed, supportive public and ag-friendly policies, with resources and even alternative markets for both established farmers and newcomers.
It's an ambitious vision, but one the county's Agriculture and Farmland Protection Board has put together after more than a year of work drafting a replacement to its 16-year-old ag plan.
"Prepare to be dazzled," said John Radliff, a dairy farmer, Farm Bureau president, and a member of the AFPB before a meeting to detail the draft Wednesday in Cobleskill.
The presentation, mostly by consultant Nan Stolzenburg of Community Planning & Environmental Associates, will be repeated Friday at 9:15am in the Board of Supervisors' room in Schoharie.
Once the AFPB adopts the plan, it will be up to supervisors to do the same-hopefully in February.
Then, the not-quite 100-page document will head to State Ag & Markets for final approval.
Ms. Stolzenburg told about 25 people Wednesday that the plan isn't zoning "or even a law at all. It's a plan, a roadmap for the future."
The county's 2000 plan is two to three inches thick, because that's what Ag & Markets wanted at the time, said Alicia Terry, senior planner for the county.
This plan is less philosophy and more specific steps the county can take to help keep farming, still the biggest piece of the local economy, viable, she said.
Those specific steps include:
--Forming an Agricultural Economic Development Roundtable, with members from organizations like Cooperative Extension, Soil & Water, and SUNY Cobleskill, along with representatives from farming and agri-business, to spearhead implementation of the plan.
"Without that, this plan will just end up being a piece of paper on a shelf," Ms. Stolzenburg warned.
"We need people committed to making it work."
--Staffing an Agricultural Economic Development coordinator to be the "boots on the ground."
--Economic development programs including forming an Agri-business Development Corporation modeled after the Industrial Development Agency; grant writing help; offering revolving and micro-loans for farmers; and creating an Agricultural Business expansion and Retention Program.
--Offering training and technical support for farmers, something that would include mentoring and internship programs as well as an online clearing house of information.
--Offering training on ag issues for Planning Boards and towns and creating model farm-friendly regulations for them to work from.
--Developing a comprehensive marketing plan for farms and farm products, along with feasibility studies for food-processing and value-added facilities.
--Expanding the local Farm-to-School effort.
--Aggressively working to provide full broadband coverage throughout the county.
Lawyersville vegetable Lennie Prezorski said he'd like to see more "nuts and bolts" in the plan.
"I'm not looking for gants. I'm looking for a plan to support agriculture," he said. "I'm a farmer. I want you to get zoning off my back."
Mr. Radliff, however, argued that the plan is full of nuts and bolts.
"You want nuts and bolts? Other counties are running and we're not even walking. This will get us walking."
"It's not a magic bullet," agreed Ms. Stolzenburg. "It's a tool box."
For a look at the complete plan, go to the county's website; the plan is under Announcements on the home page as well as under Farming on the Planning and Development page.
On the county's home page, oo to Public Announcements and Meeting Schedule, then Public Announcements, and open the PDF file; the file on the top is the plan, the file on the bottom is a series of related maps.
On the Planning page, go to Services and then Agriculture.