Locals get look at Governor's budget
| | |
| --- | --- |
| 1/24/2017 | By Patsy Nicosia |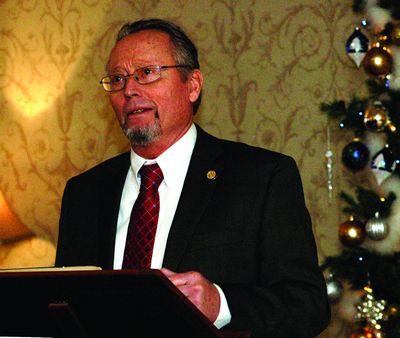 Schoharie County's favorite farmer-State Agriculture Commissioner Richard Ball-brought Governor Cuomo's proposed $152 billion 2017-18 budget to Sharon Springs Friday.
Commissioner Ball spent an hour detailing budget highlights for a crowd of about two dozen local government, school, and community representatives at the American Hotel.
His remarks followed an introduction by Mayor and cheerleader Doug Plummer.
Renovations by Sharon Springs Inc. to the village's historic spas will usher in a new era, Mayor Plummer said, even as agriculture, in all its forms, remains a vital piece of the economy.
With the help of Fabulous Beekman Boys Josh Kilmer-Purcell and Brent Ridge, Sharon Springs has gained national and even international attention, Mayor Plummer said,
And though it was a secret at the time, Jay Lavery, another Sharon farmer, was set to appear on "Ellen" Monday after the Facebook video of him dancing in his barn went viral.
"We grabbed onto that," Mayor Plummer said, filming a video in downtown shops Thursday that had Mr. Lavery dancing his way in and out of them.
"And with that segue...Commissioner Ball!"
Sharon's-and Schoharie County's-recovery has been a while in coming, Commissioner Ball said, but its great to see so much hope and opportunity.
"There's life here again," he said, and all across New York State, things are continuing to look up.
The Governor's proposed budget emphasizes three things in particular, Commissioner Ball said:
--An investment in jobs and infrastructure that includes $2 billion for things like clean water and, for the dairy farmers, funding for manure storage systems that will "take them to the next level."
--Better access to education, including $1 billion in school aid.
Mr. Ball spoke at length about the need to a better job at both the high school and college level in educating students interested in jobs in agriculture.
"The jobs in farming that in the past only required a high school diploma, they're not there anymore," he said, adding that students need to be made aware of all of the opportunities available in farming now as early as elementary school.
Mr. Ball also addressed Governor Cuomo's plan to make tuition at SUNYs and CUNYs free for families with incomes below $125,000
It's intended as a "gap filler," he said, that kicks in after federal Pell grants and state TAP aid, and would be phased in over a couple of years.
Still, about 85 percent of Schoharie County families would qualify, he said.
--Lower taxes.
Mr. Ball called lower taxes a "recurring theme" in the Governor's budget and though he didn't detail them, said there will be some substantial incentives to encourage shared services as a well to help cut property taxes.
Mr. Ball touched on the feeling across the country that government hasn't been listening to rural America for a while, and said Governor Cuomo's New York Promise, which according to a press release from the Goverrnor's Office, "affirms social justice and progressive values," wants to change that.
Taking questions from the audience, Mr. Ball said the budget includes increased funding for beginning farmers, specifically a one-stop website that brings together pieces on capital, land, and training.
It also includes $50 million for continued renovations to the New York State Fairgrounds in Syracuse as well as an additional $20 million for traffic improvements there.
Also included is $750,000 for farm-to-school efforts, something Mr. Ball is working to increase to $1 million, and funding for the New York Grown and Certified Program, a new "brand" for the state's farm products.
Mr. Ball also took questions on mandate relief, help in funding the county's streambank project, the SAFE Act, and re-licensing discussions for the New York Power Authority's Blenheim-Gilboa Pumped Storage Project.