Women's DC March inspires local efforts
| | |
| --- | --- |
| 1/31/2017 | By Patsy Nicosia |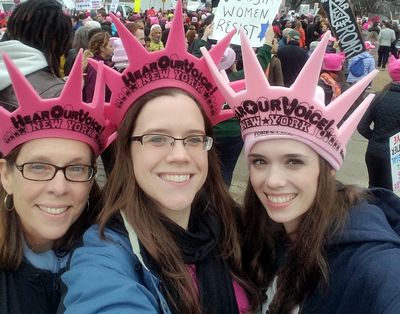 Inspired and energized by what she saw when she joined the Women's March on DC, a local woman is taking matters into own hands.
Jerrine Corallo of Schoharie has worked on organizing and connecting communities since 2005, first, with AmeriCorps VISTA in Binghamton, then with the Boys And Girls Clubs of Schenectady, and since 2015, as part of Country Classroom, a local non-profit school for pre-K through third grade.
Those experiences have led her to create an organization with a long name-Women's March NY-Mohawk and Schoharie Valley Region-that she hopes can build on the energy she saw in DC to work toward common goals back home.
For now, the group is just on Facebook--one of hundreds of "positive action circles" created there since even before Donald Trump was elected President-but its first in-person meeting will be held this Sunday, February 5, from 4-7pm in Middleburgh at a location still to be determined.
Email Ms. Corallo at jercorallo@gmail.com to join the circle or for more information.
As soon as the Women's March on DC was announced, Ms. Corallo said she knew that she wanted to be part of it.
The fact that it fell on her mother's birthday was the clincher and so with her mom, her sister, and her mom's two sisters-the first time the five of them were all together-she joined two million other marchers worldwide and said the experience was life-changing.
"I don't believe in fate, but that's what it felt like," she said.
"It was all so powerful. To be surrounded by so much unity and energy. It changed me."
So much so that by the time Ms. Corallo was on the bus heading back home, she realized it was time to step up even more.
At the encouragement of Maryanne Asta of Woodstock, one of the DC march's coordinators, Women's March NY-Mohawk and Schoharie Valley Region was born.
Like other circles and the hundreds of Sister Marches held on January 21, Women's March NY-Mohawk and Schoharie Valley Region's focus is on what members see as basic human rights, a long list that runs from sexual harassment to immigration to freedom of the press to the environment, all of which have been targeted by executive orders issued by President Trump beginning within days of his inauguration.
"Those actions have definitely been worrisome," Ms. Corallo said. "It's on us now to stay hopeful and open and create dialogue.
Specifically, she sees the Mohawk-Schoharie Valley circle as a place where people can connect and share information and, if they want, take action on issues that are especially important to them.
"We want to keep this inclusive and respectful. A safe space for everyone. What issues are people passionate about? How do you want to get involved? " Ms. Corallo said.
Women's March NY-Mohawk and Schoharie Valley Region is a group that will be evolving-likely beginning with the name, a change Ms. Corallo didn't want to make on her own.
"Anyone who's interested in connecting with others in the region who are committed to equality, tolerance, and justice for all is welcome to be part of this," she said. "We're organizing and we'd love to have you."
For more information, including the meeting location, email Ms. Corallo at jercorallo@gmail.com.
Everyone's welcome at Sunday's meeting, including children and especially young adults.

# # #

Jerrine Corallo isn't alone in her efforts to help connect local residents concerned by the actions coming out of Washington.
Elliott Adams, one of the organizers of Cobleskill's January 21 Standing Together for All Women vigil, has also created a positive action circle on Facebook and also hopes to hold in-person meetings.
"I'm just looking to be the facilitator for this," Mr. Adams said Sunday. "I have no desire to hold this [the outcome of the vigil] in my hands, to be the center, or to be competitive with other groups.
"I'm just interested in making it possible for people to make things happen and supporting them in that, whatever that means."
Mr. Adams Facebook circle is called empowered Together.
For more information, email Mr. Adams at elliottadams@gmail.com.
A grandmother in the positive action effort is the Positive Action: Cherry Valley Community Group, which organized shortly after the election and is already meeting in person.
The group's efforts are evenly divided between reaching out to the Cherry Valley community and political action.
Upcoming events include a film series and members are also working to put together a face-to-face meeting with newly-elected Republican Congressman John Faso.
More information on the Cherry Valley group is available through the Indivisible Guide, both on Facebook and online.