2 die in Carlisle fire; cause undetermined
| | |
| --- | --- |
| 1/31/2017 | By Patsy Nicosia |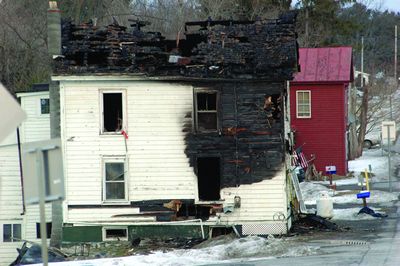 It's likely the cause of a mid-afternoon fire Saturday that left two elderly Carlisle residents dead will forever remain a mystery.
Killed were Joseph Gibbons, 87, and Marilyn O'Donnell, 85.
Mr. Gibbons was bed-ridden and never escaped his first-floor bedroom; Ms. O'Donnell, his longtime partner, was found in a nearby room, Carlisle firefighters said.
More than 75 firefighters from seven different departments fought the blaze, but Lieutenant Scott Hotaling, who was in charge at the Route 20 scene, just doors down from the firehouse, said Sunday there was no stopping it.
The fire was called in at 3:16pm Saturday after a neighbor across Route 20 spotted smoke from the side of the building.
Six minutes later the first volunteers arrived.
"The neighbor ran to help, but before he got to the road, the windows blew out and the fire met him," Mr. Hotaling said.
"It's likely it had been smoldering for hours...And once it had oxygen, it just raced through the house, up to the roof."
Mr. Hotaling said firefighters initially launched an interior attack, but once it became apparent the fire was too far gone for that, they pulled out and "and went defensive."
"You always have to weigh the safety of the firefighters," said Assistant Chief Doug Face, who was out of town and arrived at the scene later.
"We knew there was no getting on the roof...they knew pretty quickly that there was no point."
Carlisle firefighters called for ladder trucks from Cobleskill and Middleburgh almost immediately, Mr. Hotaling said, and for volunteers from Cobleskill, Midleburgh, Central Bridge, Esperance, Sharon, Charleston, and Delanson; Rural Grove was on standby.
Mr. Face said they had to go that "deep" to get enough volunteers; though only about 40 firefighters could fight the blaze at a time, the crews needed to be rotated in and out.
"You can never have enough help," he said.
Firefighting efforts were hampered by the wind and also by the fact that water needed to be hauled from a local pond-something that took firefighters away from the scene, Mr. Hotaling said.
Though State Fire Investigators were able to determine that the fire started in Mr. Gibbons' bedroom, they weren't able to pinpoint its cause and it will likely remain 'undetermined', Mr. Face said.
"That's usually the way it is," he said.
Firefighters said they believe the couple had no children and the nearest family are Mr. Gibbons' nieces and nephews on Long Island.
Firefighters were on the scene until about 11pm Saturday.
Sunday afternoon they returned to the Carlisle Firehouse for a stress debriefing.
"I'm doing okay," Mr. Hotaling said, "but it hits everyone differently. There's a whole spectrum."
"Losing a house, that's nothing," Mr. Face said. "But when there's a loss of life, even when you know there's nothing you can do, it's rough. It had such a head start..."
Mr. Face had high praise for everyone who turned out Saturday as did Sheriff Tony Desmond.
"They worked hard. It was a tough fire and a tough situation," Sheriff Desmond.
"It was," agreed Mr. Face. "I'm very proud of what everyone did."