Richmondville still not happy with apartment plan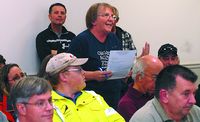 Forty residents turned out to comment on a proposed 40-unit apartment complex in Richmondville, and not one of them favored the project.
Held by the village Planning Board, Thursday's public hearing was on Housing Visions' site plan for the complex, which would be between Radez School and the planned Dollar General.
The hearing was the first time Housing Visions representatives described the project publicly. (See related story.)
But residents Thursday had heard enough earlier to raise pointed questions and objections. These covered Housing Vision's non-profit status, the need for the project, high rents for low-income tenants, traffic and the fact that it doesn't fit Richmondville.
The non-profit status came under the most fire. If Housing Visions builds the complex, it will negotiate a payment-in-lieu-of-taxes (PILOT), getting a break on property taxes.
Under the PILOT, Housing Visions would pay within its budget and leave enough to "cover our debt service," company rep Chris Trevisani said.
"I'd like to sign up for that program to pay whatever I can afford," said Posie Shaw, adding that the tax burden would fall on residents.
Being a non-profit 501c3, Housing Visions already has "their hands in our pockets," said William Lape.
"If they get a break on town, village and school taxes, they'll have their hands in our pockets again."
In his presentation, Mr. Trevisani described Housing Visions as not being tax exempt. But retired accountant George Konta indicated 'not tax exempt' was not exactly correct.
"Are you not exempt from income taxes?" Mr. Konta asked, getting no answer from Mr. Trevisani. "I think 'not tax exempt' was used erroneously."
"What benefit does that do to the Village of Richmondville?" Paul Sawyer asked, referring to Housing Visions' tax break.
Others contended a complex this large wouldn't be compatible with Richmondville. Renee Ayres said she moved to the village because it's low density and quiet.
"Why do we want to make this another ugly suburb?" she asked.
Housing Visions' rents, which would start at $835 with tenants paying all utilities, also drew criticism.
"With those rent figures, you're not going to draw people here," Carl Warner told Mr. Trevisani.
"Who's going to pay these rents on a Wal-Mart salary?" Ms. Ayres asked.
Access to the apartments would be off the Radez School driveway, which is actually a village street. Added traffic on the driveway was a major concern at the hearing.
Cobleskill-Richmondville Superintendent Carl Mummenthey described the street as "already very congested."
Tracy Ferguson agreed.
"Radez at dismissal and arrival is crazy," she said. "I can't imagine all that traffic all on one little road. It would be so unsafe."
At one point, Planning Board member Dennis Shaw asked if anyone at the hearing favored the project. No hands went up.
But resident Samantha Graves said she neither favored nor opposed the complex and would keep an open mind.
The one positive comment came in writing from Sarah Goodrich, executive director of Schoharie Area Long Term, which encouraged Housing Visions to look for projects in Schoharie County.
Housing Visions "is a good choice to bring recovery dollars to Schoharie County," wrote Ms. Goodrich, whose letter was read to the audience.
The planning board made no decision Thursday and will keep the public hearing open for a second meeting next Thursday, the 27th, at the firehouse.
When the planning board does make a decision, it will be a recommendation to the village board, which will make a final decision to approve or reject the complex.