Congressman Faso tours MCS health center
| | |
| --- | --- |
| 4/19/2017 | By David Avitabile |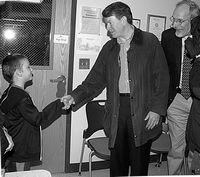 Jackson Shaw went to the Bassett Health office at Middleburgh elementary school for a checkup Wednesday afternoon. In addition having a nurse and doctor greeting, there was also a special guest: Congressman John Faso.
Congressman Faso is interested in school-based health centers as a way to provide ease of access to primary medical, dental, and mental health services to children and address health care discrepancies.
Middleburgh is a good example of a school-based health center.
Bassett has had offices in both schools for 10 years and about 600 of the 740 students in the district are signed up with Bassett.
Parent John Shaw said he liked the service because his son does not have to be taken out of school.
Bassett provides physical and mental services at the schools.
Bassett Health Care centers are located at schools in Delaware, Schoharie, Chenango, and Otsego counties.
The offices in Middleburgh are modest compared to those in other schools, officials said.
Bassett pays no rent to the district and Bassett provides the equipment and staff. The schools just provide the space and the infrastructure.
Congressman Faso spoke with Dr. Chris Kjolhede about the concept of school-based health as well as the Hallways to Health Act, which is an effort to establish a funding mechanism for school-based programs around the country and Bassett would be one such program.
Bassett's is the largest rural program in the state with 20 health care centers in 15 school districts Upstate.