State Police not giving up on 1974 Cobleskill murder of Kathy Kolodziej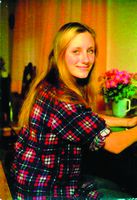 Sifting through decades of old information and looking for fresh leads, Dave Ayers isn't about to let Kathy Kolodziej's killer get away.
The State Police Investigator is the new head man on the 1974 Cobleskill murder that's left police baffled.
And Investigator Ayers is optimistic he'll make progress.
"It's difficult, but I don't think it's hopeless," he said Monday.
The basic details are clear:
Ms. Kolodziej, 17 and a freshman at SUNY Cobleskill, left a downtown bar about 1:30am November 2, apparently heading back to campus. She declined the offer of a male friend to walk with her.
And then Kathy Kolodziej disappeared until her body was found November 28 off MacDonald Road in Richmondville.
She was wearing only a red coat, and an autopsy revealed she had been stabbed to death.
A massive investigation led to no arrests but left a pile interviews and evidence. That's where Investigator Ayers is starting.
He's also appealing to anyone who was in Cobleskill in '74 and might remember something, anything.
"There's a strong possibility there's someone out there who knows something," Investigator Ayers said, hoping to jog memories.
Schoharie County District Attorney Jim Sacket endorsed Investigator Ayers' approach.
"The drinking age was 18, and there would have been a lot of people hanging out at The Vault, The Stone Pony," said Mr. Sacket, mentioning two long-ago, popular bars.
"If someone knows something, even a little thing they think is not important, that could help."
But Mr. Sacket added that a 43-year time lapse is a difficult hurdle. Witnesses or anyone familiar with the case might have died or moved away, he said.
Still, Investigator Ayers said Ms. Kolodziej's murder remains on the public's radar.
Periodic publicity has helped. A Route 7 billboard about the case generated calls several years ago, as did a $2,500 Crime Stoppers reward, which still stands.
"New information pops up all the time," Investigator Ayers said. "We have to find out if it's credible or not.
"There are several theories out there. I have my own."
He's also updating a Facebook page that Investigator Thomas Cioffi started several years ago.
Investigator Ayers was in the Times-Journal office Monday gathering 1970s news stories to post on the page and is looking for anyone who can help with 1970s photos of downtown Cobleskill.
He hopes to have the Facebook page updated by mid-August.
Investigator Ayers isn't working alone. Investigator Don Stevens and Major Crimes Investigator Dave Burns are also on the case.
Anyone with information can reach Investigator Ayers at 518-234-9401 or 234-3131.
"It's just a work in progress," he said.