C-R's Radez gets new principal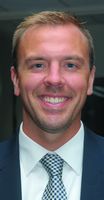 Cobleskill-Richmondville's new principal is on board.
Eric Whipple, principal at Jefferson Central School, will be the new principal at C-R's Radez School.
School board members approved his appointment Monday night.
Mr. Whipple, 34, replaces Brett Barr, who was recently appointed C-R's high school principal.
Mr. Whipple was struck by the intimacy of Radez School.
"In one of my interviews, someone said, 'Radez is a small school with a big heart,' " he said. "I liked that.
"I want to help grow that strong relationship between students, families, the school and the community."
He taught fourth grade at Delhi for seven years before becoming Jefferson's principal five years ago.
Mr. Whipple said he enjoys and feels most comfortable with third-, fourth- and fifth-grade students––in other words, those at Radez.
"Our job is to prepare them for middle school and high school, not only academically, but emotionally and socially, too," he said.
"We give them the foundation, a well-rounded education, and we focus on the whole student."
His experience and philosophy are two reasons C-R hired him, according to Superintendent Carl Mummenthey
There were "many top candidates" and all were interviewed by three C-R committees. Mr. Whipple "was the top choice of all three," Mr. Mummenthey said.
"Eric has five years as a K-12 principal and is experienced in faculty development and teacher training," he said. "He'll fit in well at Radez. It's a special place."
Mr. Whipple was born, raised and still lives in Davenport. Education runs in his family; his father was superintendent at Charlotte Valley, which is in Davenport, for 20 years.
He expects to start at Radez about September 1.
The school board set his salary at $90,000.
Mr. Whipple is the third Jefferson administrator to come to C-R recently. Superintendent Carl Mummenthey and Business Manager Tracy Fraleigh moved over to C-R from Jefferson several years ago.
Mr. Whipple is married to Shauna Whipple, and he has a stepson, Tanner Russin, 14, who goes to school in Oneonta.
The couple have a son, Tucker, who'll be in second grade and a daughter, Ava, who'll be in pre-K. Both attend Charlotte Valley.