Vintage plane lost in Sharon barn fire
| | |
| --- | --- |
| 11/1/2017 | By Patsy Nicosia |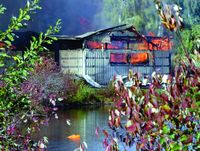 A fast-moving fire Friday destroyed a Sharon Springs barn and with it, a 1948 Ercoupe, a single-engine plane built piece-by-piece on Long Island before being flown north for retirement.
The barn, located at the north end of Empie Road, was owned by Dale and Mike Whelan of Massapequa, who discovered the fire shortly after 10am Friday.
What they at first thought was fog turned out to be smoke coming from the nearby barn, Ms. Whelan said, and before they could get outside, someone was knocking on their front door to alert them to the flames.
They barn was fully involved by the time firefighters from Sharon Springs and Carlisle arrived; the Cobleskill and Ames Fire Departments were on standby at their stations.
Firefighters said a farm pond just a few feet from the barn let them quickly begin extinguishing the flames—though the fact that the barn was wrapped and roofed in metal worked against them.
The barn was located several hundred yards away from the Whelans' home, which was never in danger, volunteers said, but in another drier fall, that might not have been the case; the fact that nearby trees still had their leaves and that the hayfields around the barn had been cut and not left to grow up to tall, dry case also worked in their favor.
Ms. Whelan said the only thing of real value in the barn—sentimental value, she said—was the plane, something her father Joseph Michalicka, built by hand to pass the time after his wife and her mother died.
Ms. Whelan said the plane's last flight was to Sharon; she doesn't fly nor does her husband or son, she said.
"I always told them they needed to learn or I was going to sell it," she said. "It was just the sentimental value…A part of my father."
Thick black smoke from fuel stored in the barn initially made visibility and breathing at the scene difficult.
Officials are blaming the fire on a garden tractor stored inside.