'Music Man' comes to Cobleskill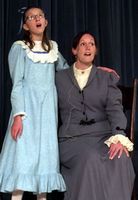 The Theater Project of Schoharie County will present Meredith Willson's "The Music Man" on the Golding Middle School stage on November 17 and 18 at 7pm and again on the 19th at 2pm.
This musical classic is set in Iowa in the early 1900's.
The original Broadway show starred Barbara Cook and Robert Preston; the hit movie featured Robert Preston and Shirley Jones.
When people think of "The Music Man" the song "76 Trombones" is probably the first thing that comes to mind; it's a show overflowing with incredible music.
Songs include "Till There Was You," "Lida Rose," "Gary, Indiana," "My White Knight," and "The Wells Fargo Wagon."
The story is about Harold Hill, a fast-talking salesman, who goes to small towns to sell instruments and uniforms for a kids' band and then leaves town before they find out he really can't lead a band.
But this time he falls in love with Marian the librarian.
Harold is played by Sean Jordan and Marian is played by Jamie Crewell.
Harold's sidekick, Marcellus, is played by Josh Shuart.
Mrs. Paroo, Marian's mother, is played by Susan Peter, with Winthrop played by Rock Lasky.
Seth McDonald plays Tommy Djlas and Anna Mueller plays Zaneeta Shinn. Brynn Crewell plays Gracie Shinn.
The school board, who becomes the inseparable barbershop quartet, is played by Ron Cleeve, Jack Gosselink, Wayne Regels and Brian Smith.
Dennis Shaw plays Mayor Shinn and Libby Hammecker is Mrs. Shinn. Charlie Cowell is played by Matthew Worcester. Amaryllis is played by Elizabeth Eckel.
The cast of over 40 ranges in age from 7 years old to 80.
The production is directed by Cherie Stevens with musical director Mark Pracher. Dennis Shaw is the producer and the stage manager is Susan Peter.
Tickets are available at Race Printing and Packaging, Harmony Acres and at the door.