State Police will be at "Kathy" vigil
| | |
| --- | --- |
| 11/22/2017 | By Patsy Nicosia and Jim Poole |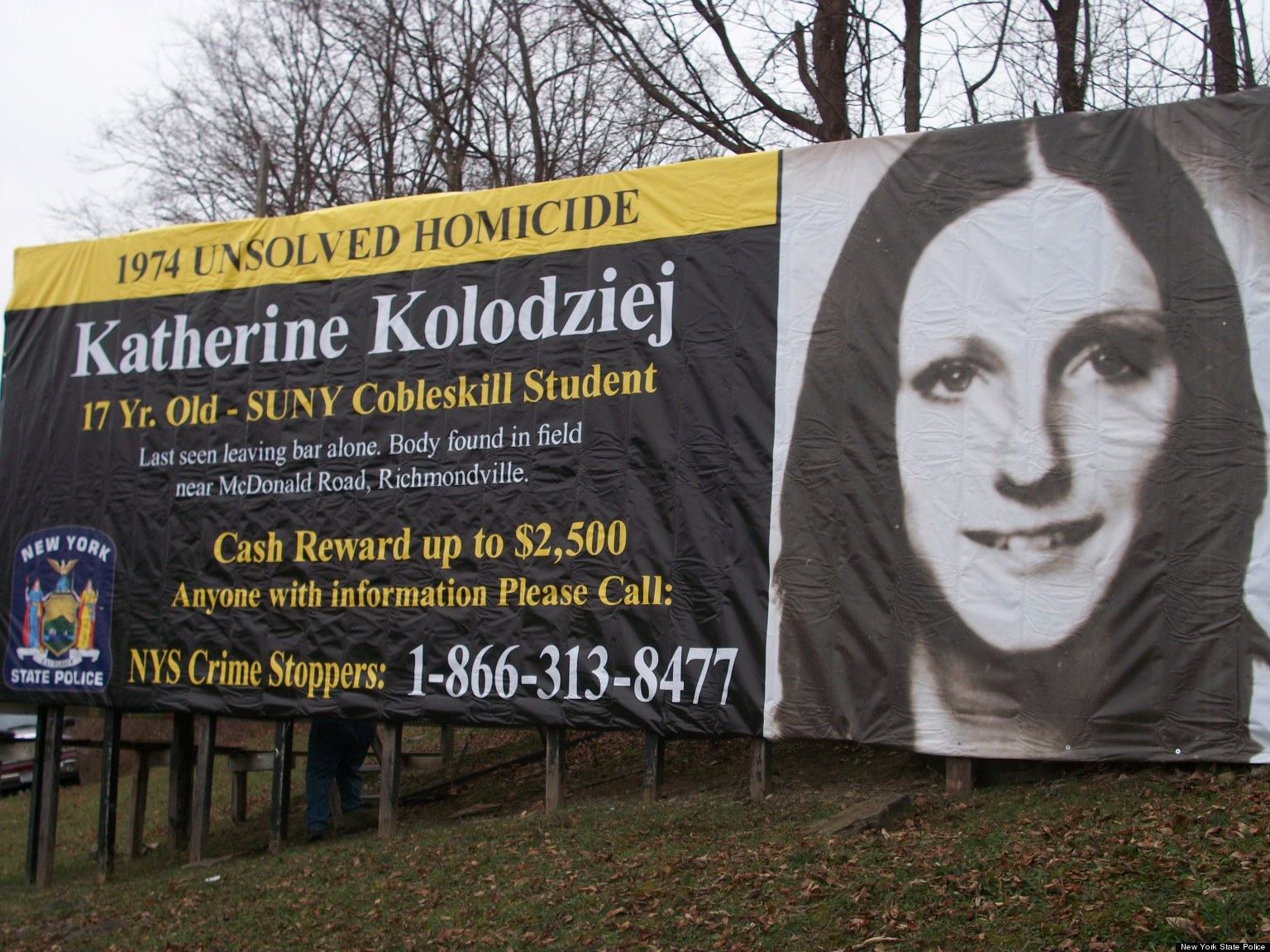 State Police are hoping a short candlelight vigil and march being held next Tuesday in memory of Kathy Kolodziej will yield something 43 years of investigations and following up leads has not:
The answer to who killed her November 2, 1974.
The vigil is being organized by two local women who never knew Ms. Kolodziej, but want to honor her memory.
It will begin on the corner of North Grand and Main Streets near where Ms. Kolodziej was last seen leaving a popular SUNY Cobleskill and "townies" bar, the Stone Pony, and end across the street at Veterans Memorial Center Park.
The vigil and march follow the latest State Police press conference on the murder, this one held October 31 in front of a billboard bearing Ms. Kolodziej's long-familiar photo just off Route 7, west of the college; she was a 17-year-old college freshman in her first semester when she was murdered.
The billboard also advertises a $2,500 NYS Crime Stoppers reward; anyone with information can call 1-866-313-8477.
A similar billboard was also offering the reward put up in 2014, also on Route 7, between the Village of Cobleskill and Shad Point.
It yielded leads, but no murderer.
BCI Investigator David Ayers inherited the case and in July, in an interview in the Times-Journal, he asked anyone who was in Cobleskill in 1974 who might know something to step forward.
Investigator Ayers and other State Police and BCI officials made the appeal again at the October press conference, an event that drew regional newspapers, and TV stations.
But still: No answers.
"We've gotten tips associated with your articles, and some from the press conference", Investigator Ayres said, though he said he couldn't be more specific "without giving anything away."
"Whether the leads are good or bad, I still have to follow them up. We're still concerned. It's still an active case."
The details of Ms. Kolodziej's disappearance on November 2, 1974 are by now familiar:
She was reportedly last seen at about 1:30am, on November 2, 1974, apparently headed back to campus, and had declined the offer of a male friend to walk with her.
The drinking age was 18 at the time and it was a common practice for students who'd been downtown to walk back to their dorms alone.
Ms. Kolodziej never made it and her body was found November 28 off MacDonald Road in Richmondville, near Beard's Hollow, draped on a stone wall.
She was wearing only a red coat and an autopsy revealed she had been stabbed to death--something investigators have said must surely have left considerable evidence somewhere and a reason they're all but certain someone knew who'd killed her.
Still, they point out, 43 years is a long time and the clock's ticking; witnesses or anyone familiar with the case might have died or moved away.
Investigator Ayers said a reader called him after a short article on the November 28 vigil ran in last week's T-J.
"That's awesome," he said. "I'm going to make sure to be there."
The vigil is being organized by Jackie Farrell and Marian McKiernan, two friends who never knew Ms. Kolodziej--though Ms. Farrell attended SUNY Cobleskill in the early '80s--who just want to see her remembered.
"We're just people who prefer to be in the background," Ms. Farrell said. "This isn't about us. But she was a college student who died here and we don't want her to be forgotten. We're both spiritual people...we want to keep her memory alive."
Details of the event are still being firmed up. Ms. Farrell said they're reaching out to churches and Cobleskill Mayor Linda Holmes and are also working on some flyers.
Vigilers can bring their candles or flashlights, but the organizers also hope to have some to share.
The event will begin at 6pm at the corner of North Grand and Main Streets.