Cobleskill's Gary Schacher takes on state American Legion post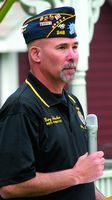 Cobleskill's Gary Schacher became the 100th commander of the American Legion Department of New York State—and the first Iraq War veteran to hold that post—at ceremonies Saturday in Rochester.
A 26-year United States Navy veteran, Commander Schacher served in Fallujah from 2004-2005 and has dedicated his post-military career to supporting veterans across New York State.
His election came just before the end of the 100th organization's convention, held Thursday through Saturday.
Commander Schacher succeeds Commander Rena Nessler, also a Navy veteran, who was also the first woman commander of the American Legion Department of New York.
"It's an incredible honor to have the opportunity to lead this incredible organization as we pursue another 100 years of making a meaningful impact in the lives of veterans and their families," Commander Schacher said.
"I joined the American Legion more than 25 years ago because of this commitment to service members of all ages and backgrounds and I am proud to say our commitment to all veterans is unwavering and stronger than ever before."
A member of Timothy Murphy Post 248, Commander Schacher enlisted in the United States Navy in 1980 and served in the Persian Gulf region before being released from active duty and joining the Naval Reserves.
As a reservist, he served with a Weapons Station Unit and a Mobile Inshore Undersea Warfare Unit before transferring to the Navy Seabees in 1990.
He was promoted to chief petty officer in 1996 and recalled to active duty in 2003 and 2004 for Operation Iraqi Freedom, serving with the Seabees in Fallujah.
He retired from the Navy in 2006 with 26 years of service.
During his military career, Commander Schacher received numerous personal awards, including four Navy Commendation Medals, three Navy Achievement Medals, the Navy Expert Pistol Medal, the Navy Expert Rifle Medal, and several campaign, service, and unit awards.
He is a recipient of the New York Conspicuous Service Star and the New York Medal for Merit.
In 2017, he was inducted into the New York State Senate Veterans Hall of Fame.
Commander Schacher began working for New York State in various state agencies in 1984.
A graduate of SUNY Cobleskill with an associate's degree in computer science, he was named Student of the Year in 1998.
Since 1999 he has worked for New York State Police in the Information Technology and Investigative Application Support units, managing the State Police IT Support Center from 2002-2012 and he was honored as the state IT Manager of the Year in 2012.
Commander Schacher has been an American Legion member for more than 26 years and has served in leadership capacities from the post to Department levels, and most recently was Department Membership chairman.
He is also involved in the Sons of the American Legion and the Legion Riders.
At Saturday's ceremonies he declared "Never give up!" as his theme for his year.
"We are 100 years strong and we are paving the way for the next 100 years to be the voice of veterans at the local, state, and national levels," he added.