Farm Bureau looks to the past, future
| | |
| --- | --- |
| 9/18/2019 | By Patsy Nicosia |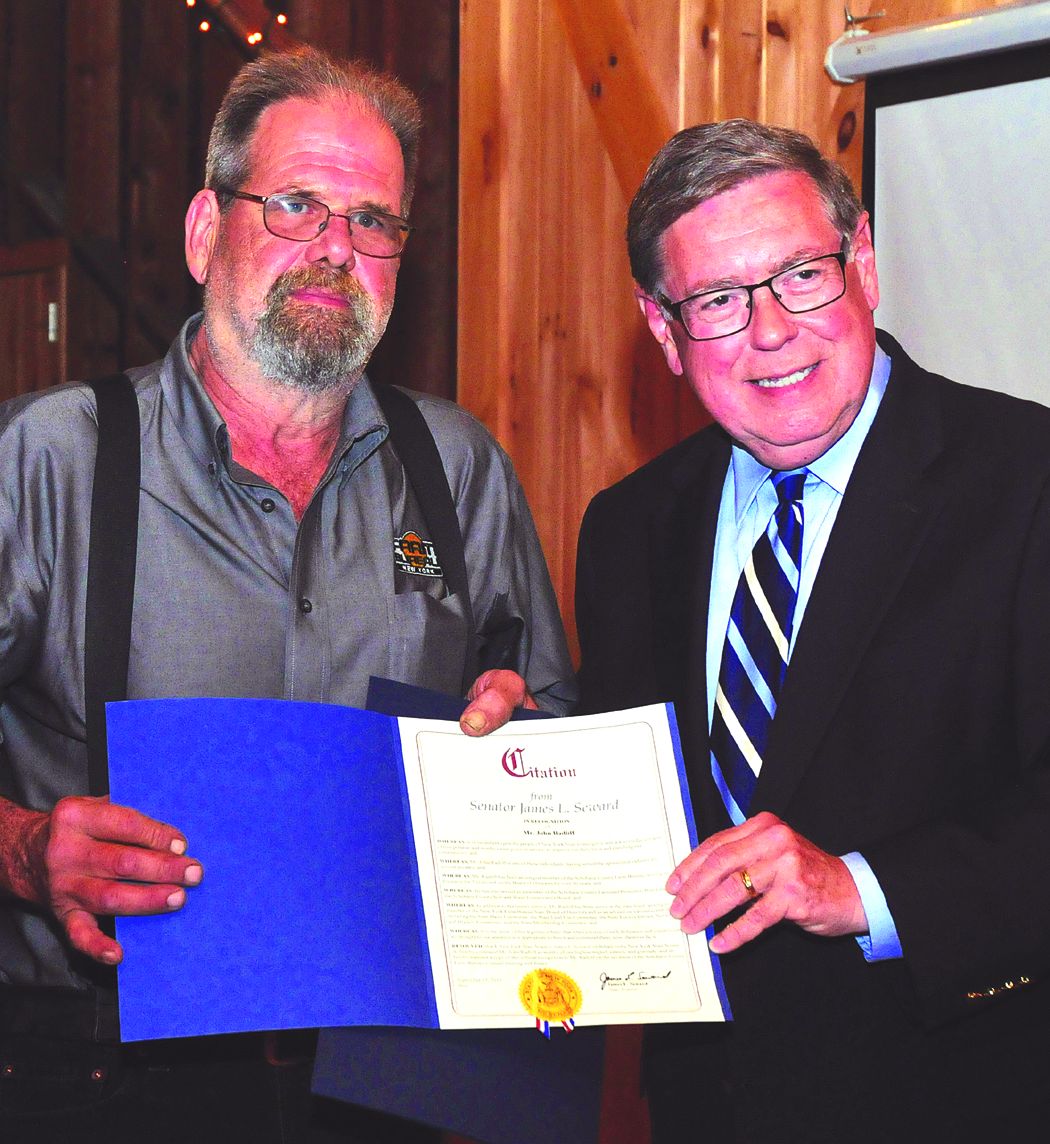 A griculture can feed more than our hunger.
It can also feed our souls.
That's the message Jason Evans, SUNY Cobleskill professor and executive director of the Institute for Rural Vitality, shared with members of the Schoharie County Farm Bureau at their annual meeting Friday.
The Farm Bureau also honored longtime members John Radliff and John VanDerwerken and voted on policy to be forwarded to the New York State Farm Bureau for consideration at its annual meeting in December.
Dr. Evans told the crowd at the Olde Tater Barn that what they do is important, not just because they're growing food, but because of the opportunity they have to reach high school and college-age students who are more anxious, stressed, depressed, and isolated than they've ever been--thanks in part to social media and the challenges of growing up in 2019.
"But agriculture is inspirational," Dr. Evans said. "It's full of hope. Your work translates into something real...there's a hopefulness to it."
And reaching out to young people with that could go a long way to reversing the decline of agriculture.
Just as important is the resiliency that farming offers, Dr. Evans said; everyone in farming knows not every day is wonderful.
"Some days calves die. The crops fail. Bugs come. But that's OK. Farmers are hardy people. That's an important lesson too."
Touching on opportunities and challenges he's seen in his work, Dr. Evans pointed to a trip to California that he took with his Ag Business students.
"You don't understand the scale there until you see it," he said. "It makes you ask 'Why do we even bother?'"
But big isn't always better; California agriculture has struggled with lack of water and now it's struggling with labor.
To deal with the labor issue, he said, the industry there is embracing technology--smart tools and robotics--but it's on a scale that doesn't work in the Northeast, where farms are smaller.
That makes it both a challenge and an opportunity.
Also missing in the Northeast, he said, is necessary agricultural infrastructure, something that will require conversations with investors to change.
Dr. Evans grew up on a farm in West Virginia and with his father's death last year, he said he's realized how much he misses that life.
"What you do...it's never easy, but it's so important," he said.

• • •



Also on hand Friday were several of Dr. Evans' SUNY Cobleskill students and FFA officers Hannah-Rose Foote from Cobleskill-Richmondville and Josh Bivins from Sharon Springs.
Senator Jim Seward, a SCFB member, was there as well and presented Mr. Radliff, a longtime SCFB member and former president and director, with proclamations from the State Senate and Assembly.
Echoing the words of Dr. Evans, Mr. Radliff told the young people in the crowd how important it is for them to get involved and speak up.
"Nothing is going to change unless we get off the farm and go to Albany, our county leaders…" he said.
"We have this resurgence in agriculture that we so desperately need right now and you are part of it."
SCFB members also honored John VanDerwerken, a FB member since 1942, with his grandson and SCFB President, also John VanDerwerken, doing the honors.
District 9 State Director Darin Hickling touched on some of the highs and lows in Albany over the past year and he stressed the importance of crossing the upstate-downstate divide.
The poor ag policy that's coming out of Albany, he said, isn't Democrat vs. Republican, but upstate vs. downstate.
"We really need to focus more on meeting with our urban legislators," he said. "Tell them your stories. Tell them about your farms and your families."

• • •


In addition to President John VanDerwerken, 2019-2020 SCFB officers include Vice President Rich Benninger, Secretary Mark VanDerwerken, Treasurer Ethel Benninger.
Mattea Taylor is Young Farmer & Rancher chair and Taylor Bogardus is Promotion & Education chair.