A Little Library in Schoharie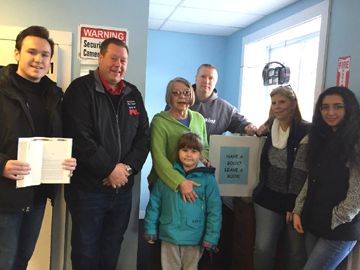 Like to read? Got books? Stop by the new Little Library at the Central Mat in Central Bridge and take a book or leave a book.
The Central Bridge Civic Association officially launched its Little Library on Saturday, December 7.
On hand were members of CBCA and the public. Assemblyman Chris Tague, who grew up in Central Bridge, was there to dedicate the library.
Elaine Cooper, vice-president of CBCA, initiated the project.
"There are many children in town and most have no access to reading materials, especially during the summer," Ms. Cooper said.
Scott Simmons, president of CBCA, is owner-operator of the Central Mat Laundromat and provided the space.
Lisa Howard donated the cabinet.
Ben and Toby Cooper did the set-up and printed promotional signs.
The Schoharie Library and many others donated books.
The Little Library cabinet is filled with books and has adult novels on the top shelf and children's stories on the lower shelf.
Assemblyman Tague was supervisor when the Town of Schoharie, in partnership with the town of Esperance and Schoharie Area Long Term (SALT), conducted a community planning study. 
"The Hamlet of Central Bridge Community Revitalization Plan" was published in March 2018 and identifies ways to enhance the hamlet.
Citizen participation is key to success of the plan and this effort is continuing through the Central Bridge Civic Association.
CBCA is a 501(c) (3) not-for-profit foundation whose goal is to sponsor activities for youth and families, honor veterans, enhance the hamlet and preserve its rich history as a railroad Boomtown.
CBCA holds its monthly membership meeting on Wednesday, December 18 at 7pm at the Bethany Evangelical Lutheran Church Parsonage at 185 Church Street in Central Bridge.
The group meets on the third Wednesday of every month except for January and February.
New members are welcome to join and share their ideas.
For information call Robin Hazard, secretary, (518)868-2837.