Cobleskill vigil marks Trump impeachment vote
| | |
| --- | --- |
| 12/24/2019 | By Patsy Nicosia |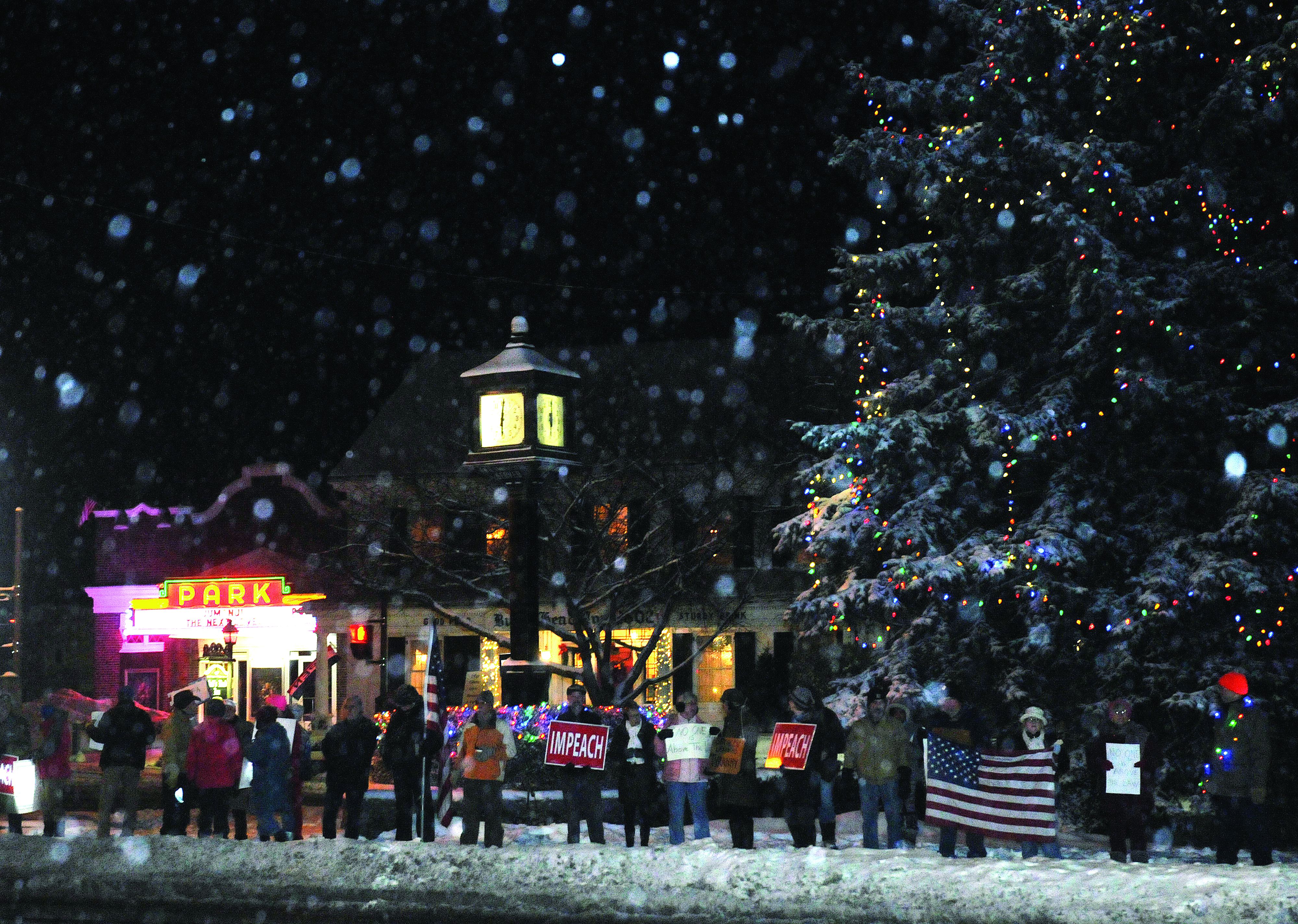 Thirty local protestors ignored icy roads and snow to stand vigil with tens of thousands across the nation last Tuesday on the eve of Congress's historic vote to impeach President Donald Trump.
The Nobody is Above the Law rallies took place in all 50 states and Washington, DC.
In Cobleskill, activists gathered along Main Street, in Veteran's Memorial Centre Park, where a lit Christmas tree and "Jumanji, the Next Level" on the marquee at the Park Theater served as a colorful backdrop.
Though they'd discussed canceling the local protest because of the weather, the vigilers forged ahead, in part to represent "our friends and neighbors who would join us in better conditions," said Julia Walter of Cobleskill beforehand.
"In this case, we're not protesting, but supporting Congressman Delgado's vote tomorrow in favor of impeachment. It's rare in my opinion to have a demonstration in support of actions."
Theresa Heary of Middleburgh, one of the coordinators of the rally, organized nationally by MoveOn.org, and of the local Indivisible group, Rural Awakening, called the rally "a group of peaceful people standing together for what's right."
"It's not always easy to stand up for what's right," Ms. Heary said.
"When we see that we are part of a coast-to-coast movement, it's easier and we're more powerful."
Elliott Adams of Sharon Springs, a longtime activist, said he and his wife, Ann, braved the weather because they felt it was too risky to stay home.
"Our democracy and government are at risk," he said. "It's not about the people in office. It's about defending our nation and our democracy."
In a sharply divided vote, President Trump was impeached Wednesday on two articles, one for abuse of power and one for obstruction of Congress under allegations he tried to stymie the House's investigation into his request to the Ukranian president to investigate Joe Biden, who he could face in next November's election, and his son.
The issue will next go to the Republican-controlled Senate, which is widely expected to acquit President Trump.